This spring, my buddy and Logan and I set our sights on climbing the Salathe in May. Neither of us had done more than the Freeblast pitches, so we were psyched to have a few days for it. A few weeks before our trip I decided to squeeze in a weekend ascent of the Nose with Rich to make sure I was in good shape.

The week of April 25th offered a powerful Jupiter/Mars opposition that promised increased strength and vitality with an itty bity liability of blind optimism possible. Perfect! We'd fix to Sickle on my Friday, and haul a light bag with 4-5 gallons of water, lightweight sleeping bags and puffy jackets. Plush, weekend style.
The weather was perfect and somehow the usual Nose crowds were still back at camp racking.
I, who shake at a 5.9 crux, hiked the pitches to Sickle in smooth style. Our blithe optimism was revealed though when both of us showed up at the base of the first pitch without jumars(I always carry a ropeman and a tibloc on the back of my harness which Rich made work). Unfortunately Rich dropped his camera off the Zodiac so the pictures are one sided from our climb.
Team Poseur:


A wide open Nose....eat your heart out!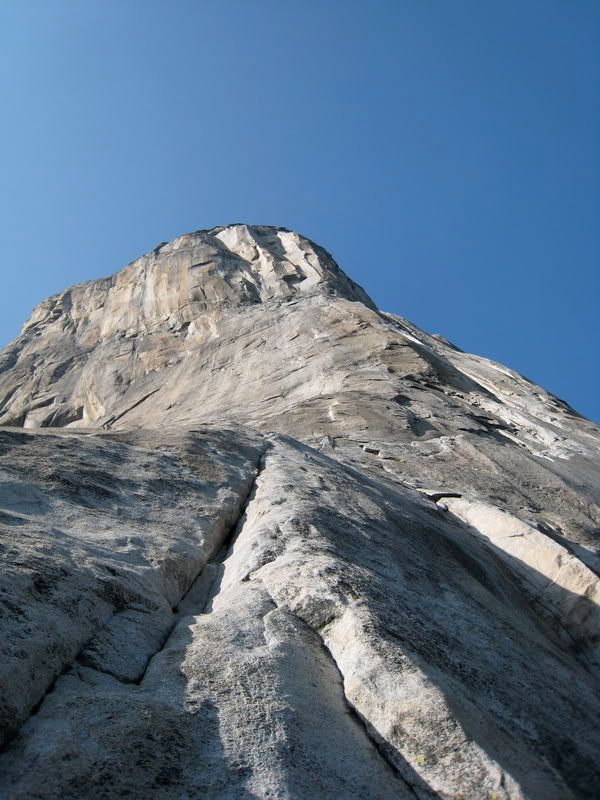 Juggin with no handles:


Funny thing:
The haulbag Rich had turned out quite a bit smaller than I thought so we had to jug with a bunch of odds and ends attached to us. At the top of each pitch I would look down and see what looked like some guy who got lost in REI and then grabbed the first five things on the way to register at closing trying to keep the ropes unstuck and swing around to clean gear.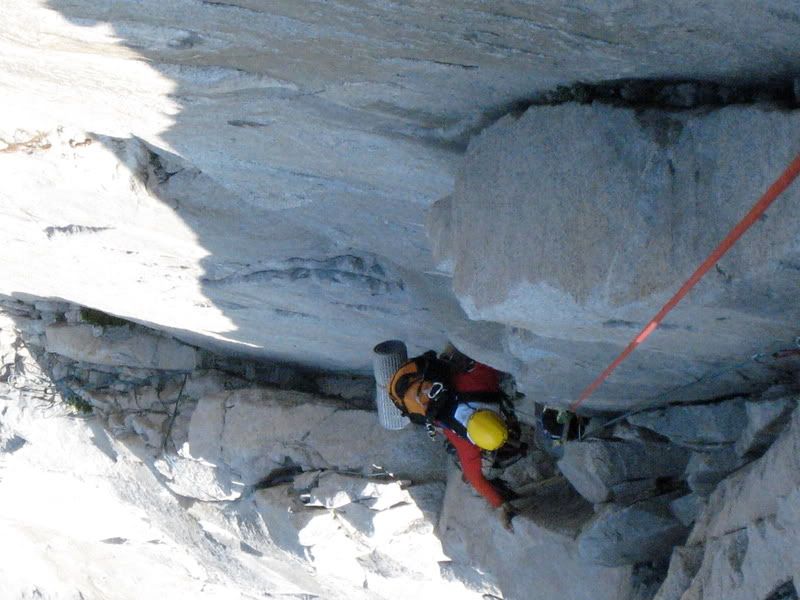 I hadn't done the traditional Dolt Hole variation into the stovelegs in a while so we went that way. It turned out to be much less classic than entering low. (the picture looks funny because I linked the Dolt Hole pitch to the top of the bolt ladder, allowing us to then link the stovelegs into the 10d offwidth pitch).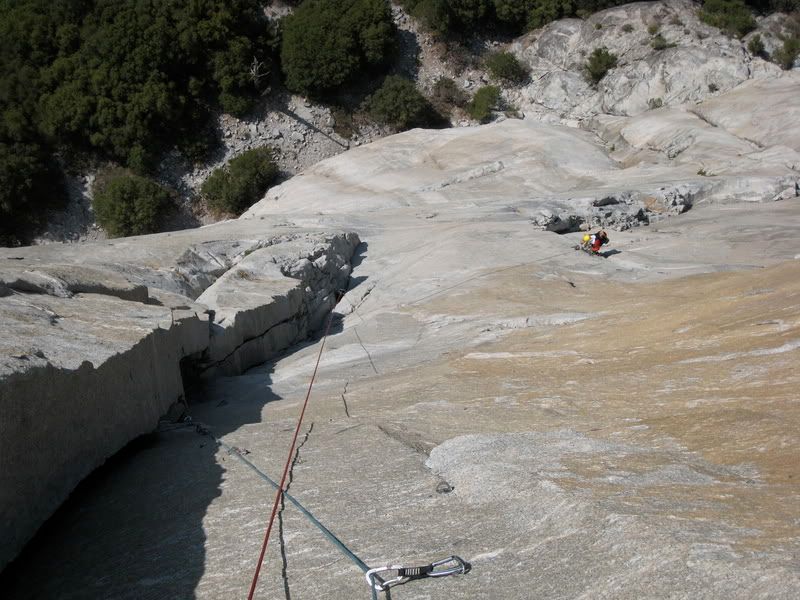 The view before you penji into the stovelegs--5.8 glory!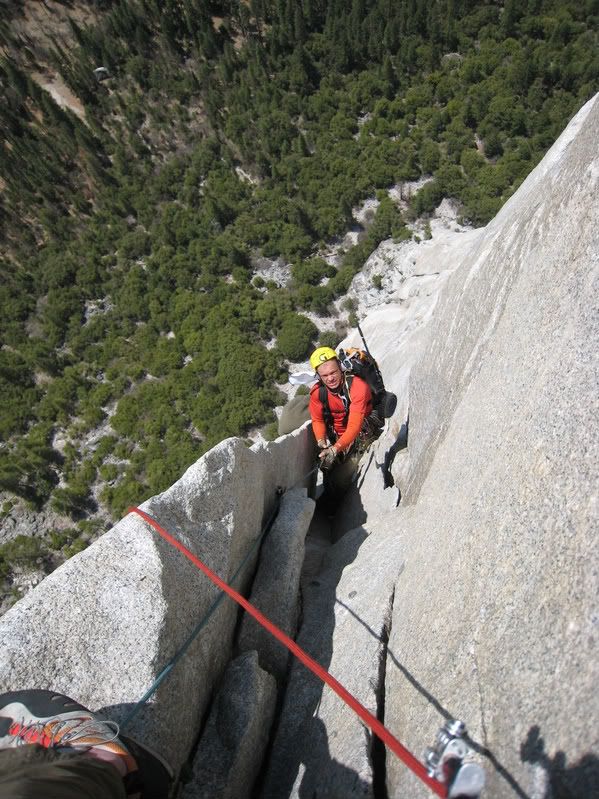 We hit Dolt by midday: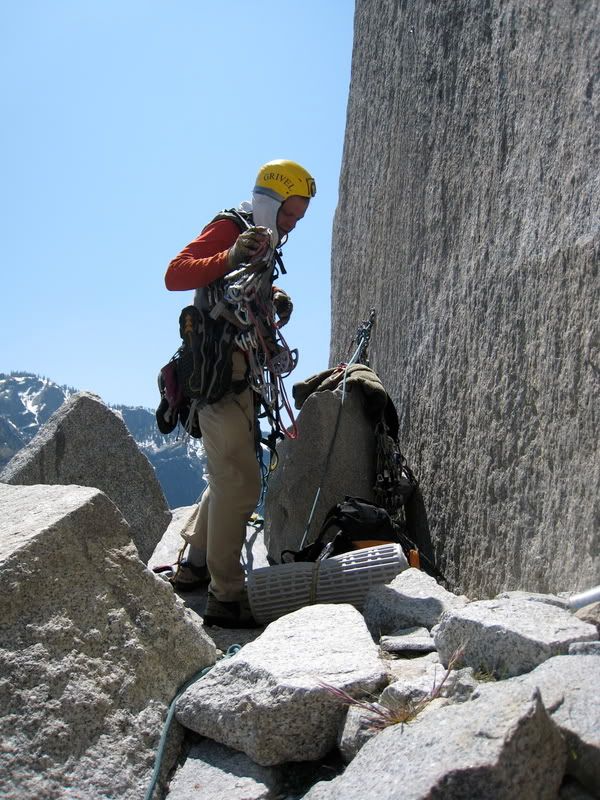 Rich, taking us to the Tower: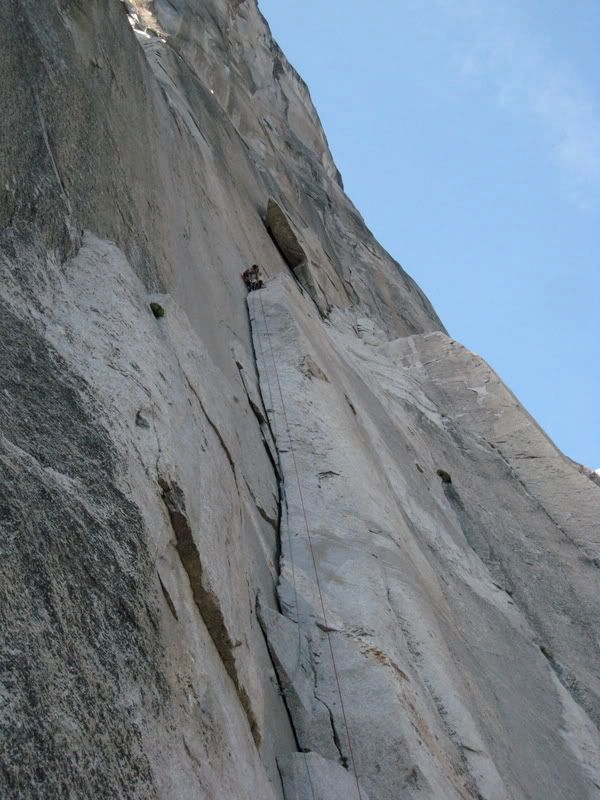 Light is right!


The best bivy on the Captain!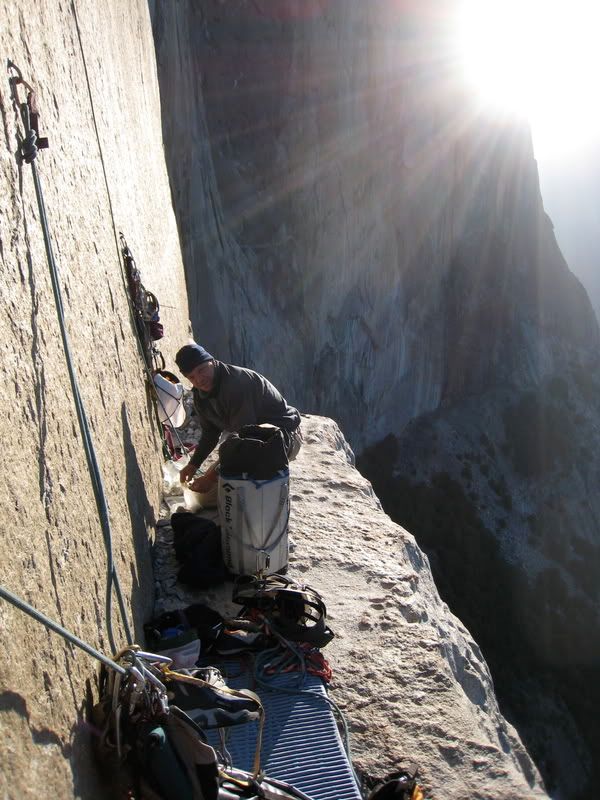 The next day was awesome, sailing the granite seas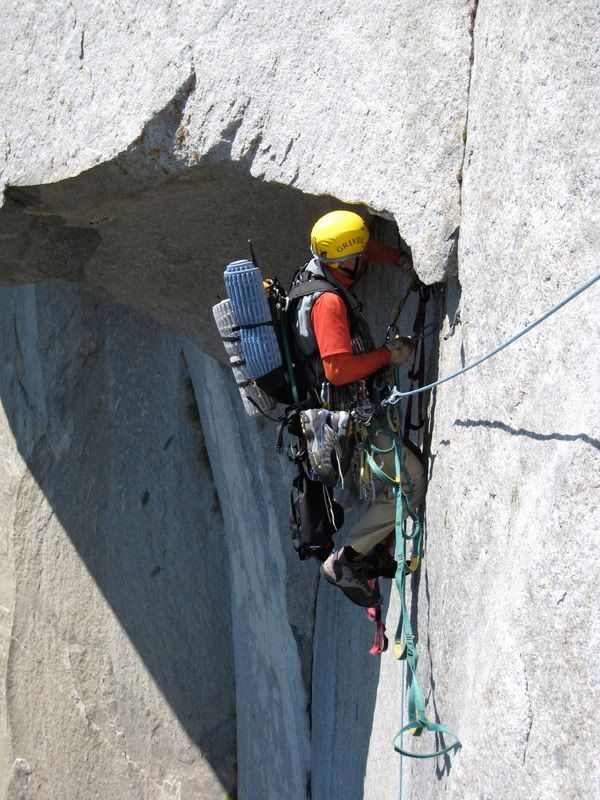 when below we spotted a sleek approaching team: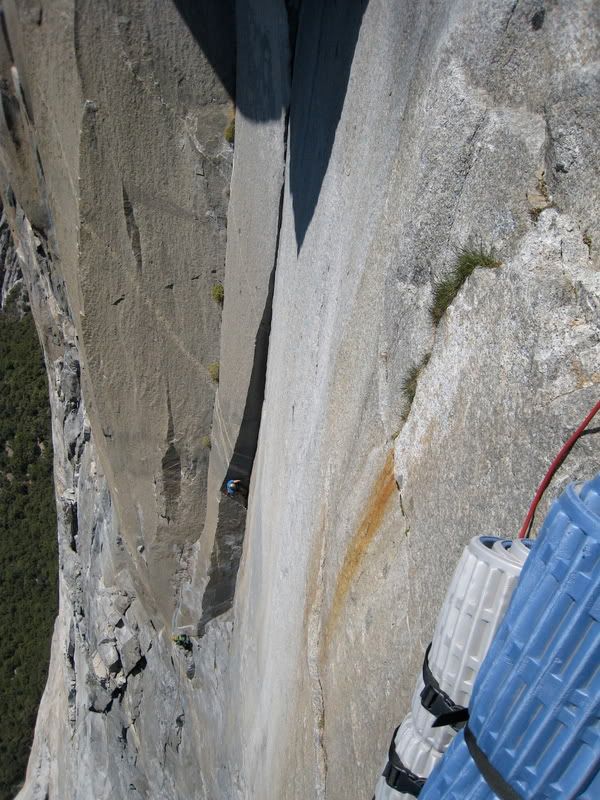 Turns out they were friends Stanley and Corbin doing it in fine style(how funny to be climbing the Nose in two days and getting passed like you're standing still)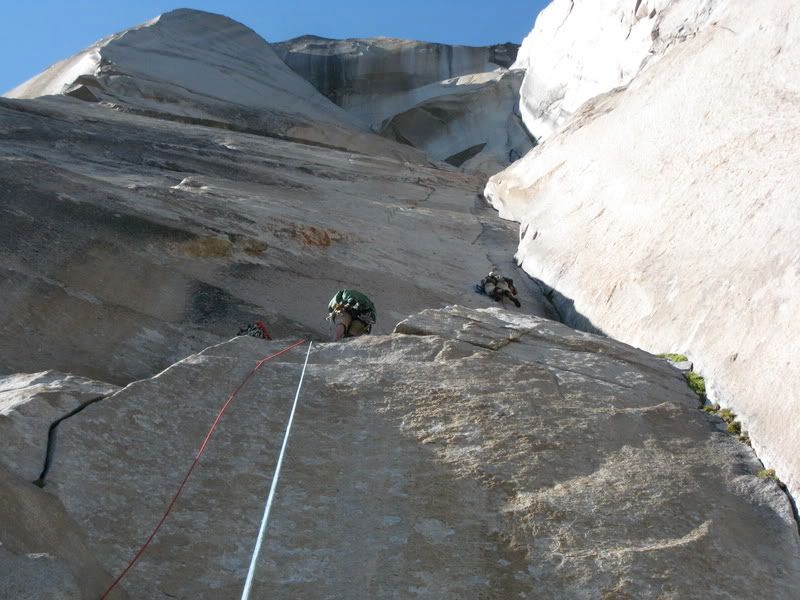 Rich used the last daylight to lead the Changing Corners as I rested on Camp 6.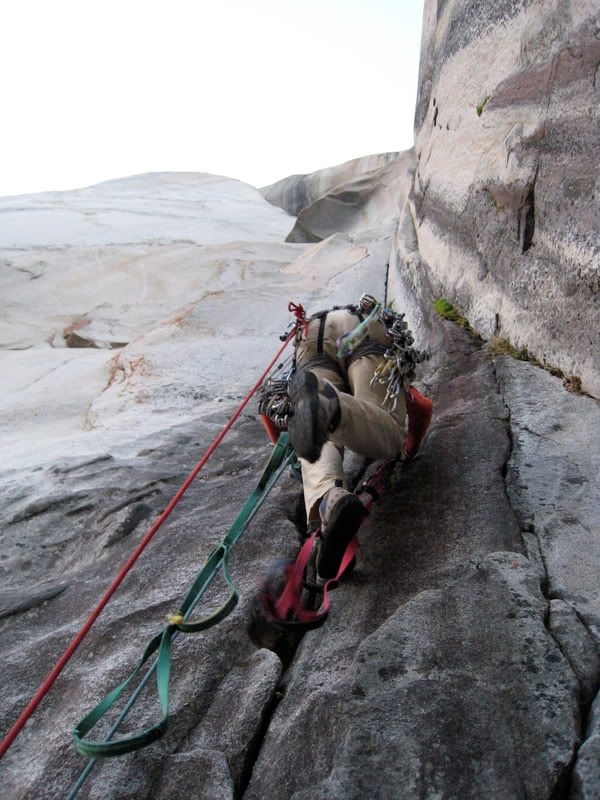 I took us to the top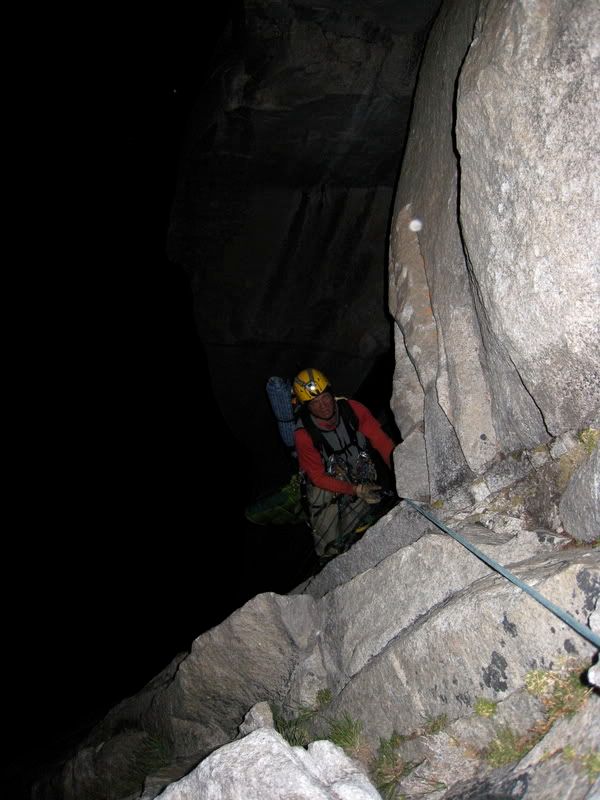 Rich and I crawled onto the summit around midnight Sunday night totally exhausted. I had used all that Jupiter infused Martian motion to lead most of the climb after Rich's blown knee turned out to be a little less solid than he had thought.
The summit was sublime and we were psyched to sleep in.


I had to work in the afternoon though so after several hours of gawking we packed it up



The Salathe in three days didn't sound like a party anymore. So I suggested Logan and I just climb the Nose so we could enjoy ourselves and attempt some free climbing(up to 5.9, hahaha).

Jupiter was turning retrograde or standing out like an uninvited neighbor's dog in a family portrait when Logan and I racked for our climb. Retrograde status means the outer or worldly expression of luck and wealth has gone south, doh! Fortunately, Jupiter's intangible jewels of wisdom and faith are even more pronounced during this highlighted time. This summit was never in question.

Logan's sis was graduating so Holly agreed to help me fix to Sickle. This time the Nose was going off. So much fun meeting all kinds of people and sharing the deeply ecstatic vibe. Pro tip-- if you don't know how to lower out yourself or your haulbag, you probably shouldn't be on El Cap.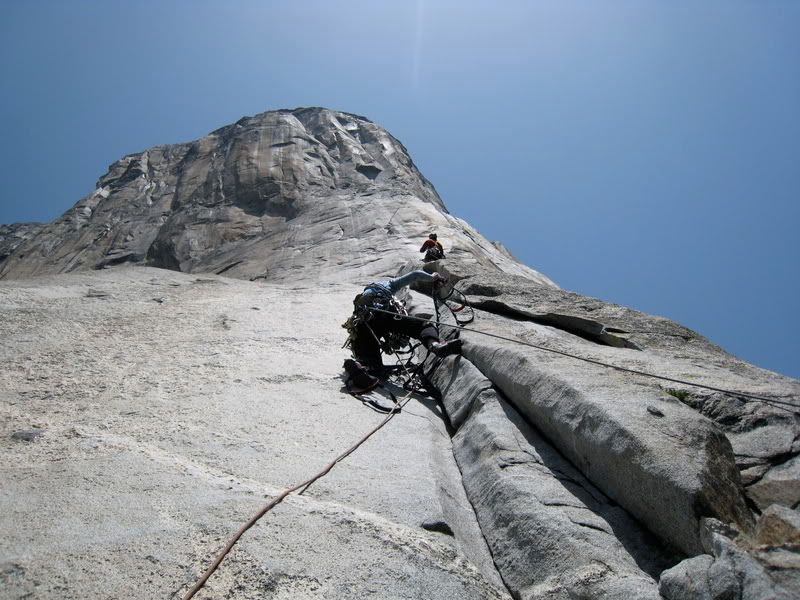 The Stovelegs under seige: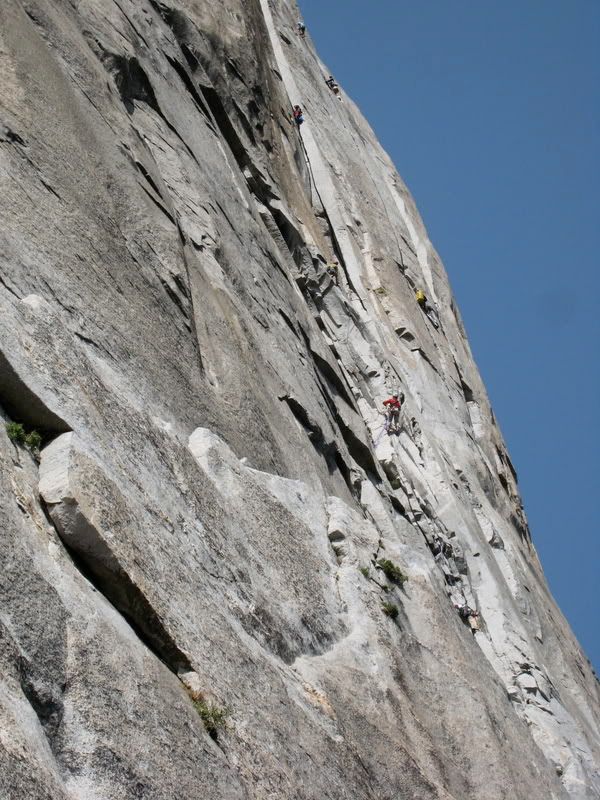 We had a great time saving the day and encouraging everyone to go big. Best lines overheard at a crowded belay on the Nose:
"Man, I totally didn't expect anyone else to be up here"(repeated several times!)
"Well, we're up here because we needed to get ropes fixed to Sickle, but if all of these people are doing the same thing then why should we bother? Let's rap down and get ready to blast once they get their ropes fixed"
"uuggh, I was just sitting here and this party came up and acted like they were going to climb right behind us. What's the protocol on that?"
Of course, all the people who made these statements ended up bailing.
Our new bros Kyle and Chris blasted at the same time as us. It was fun to have someone below to take pictures of:


There was a party bivied on pitch 3, below them you can see the free climbing legend Jim Herson who climbed through(with friend Erica following all the pitches free like a champ) a short while later.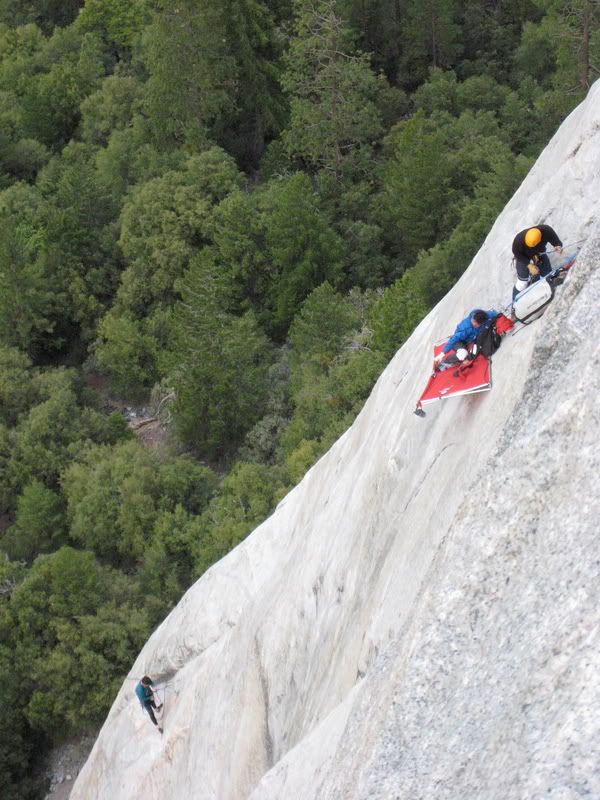 Logan charged into the Stovelegs with Kyle right behind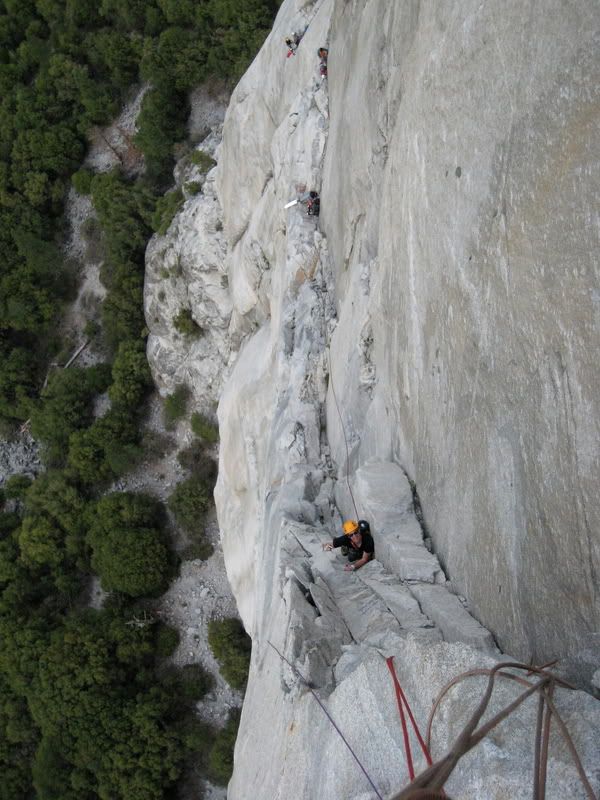 The middle traverse into the stovelegs is only 5.8 or 9 and sets you up for a glory pitch


Jim slipped past Kyle and we both lowered into the Legs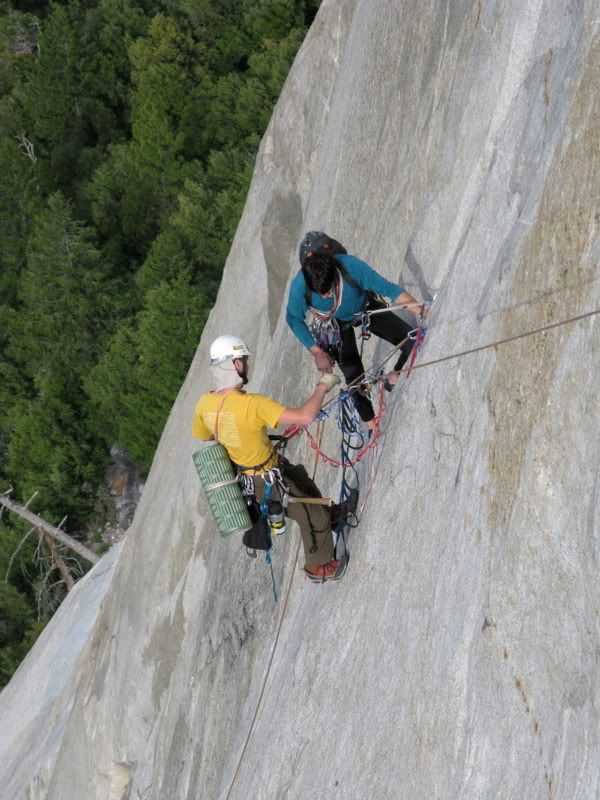 We let Jim go first as he climbed each pitch in about 4-6 minutes, placing 1-2 pieces of gear--we were a little slower than that


Logan hiked the splitter and agreed to belay me up


I'm smiling about as much as I can while breathing hard


Tom Evans shot of me at the end of the pitch


Then the wind picked up and Logan walked the Link cams to Dolt
Tom Evans shots: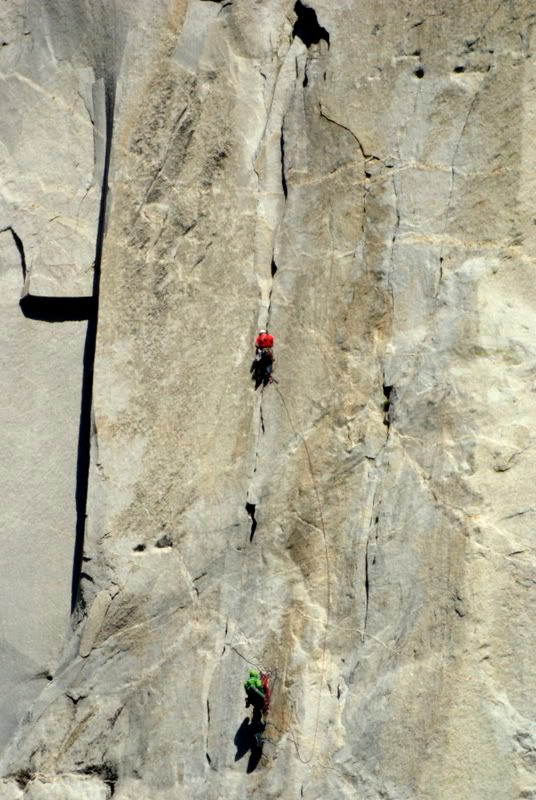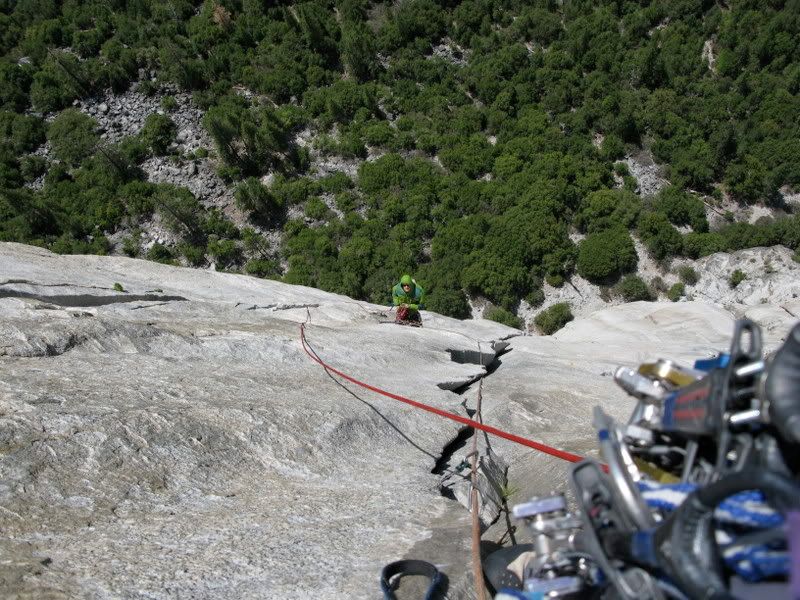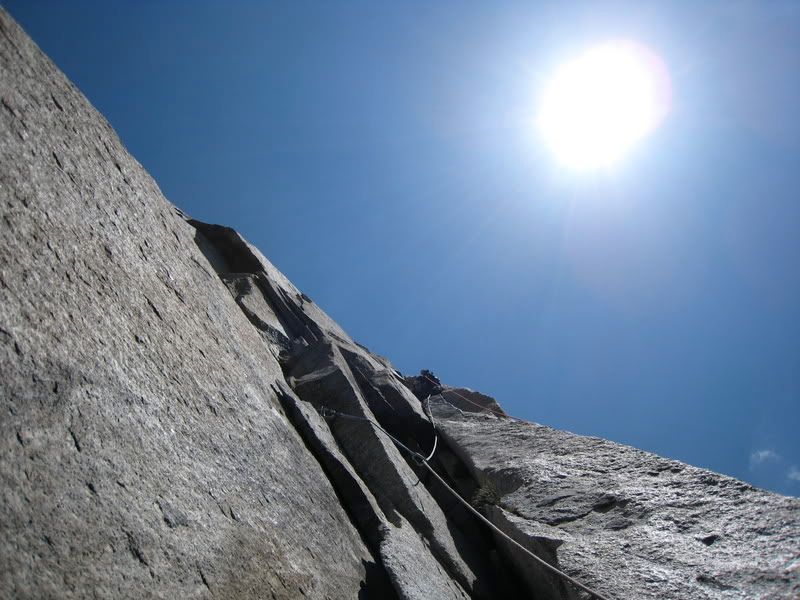 on Dolt Tower: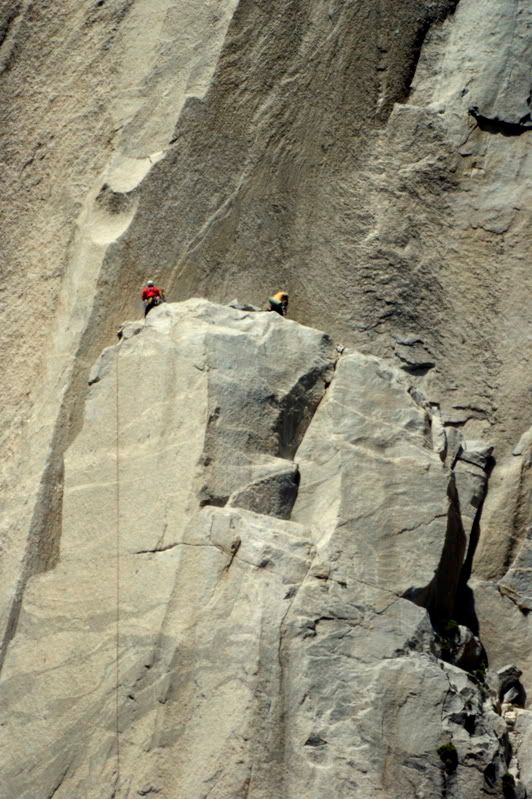 Then I got to lead the sweet free climbing from Dolt to El Cap tower
(I might be pulling on a piece there:)


Tom Evans shots:


Bob and Moo were still on top of Texas Flake when we got EC Tower, Tom Evans photo: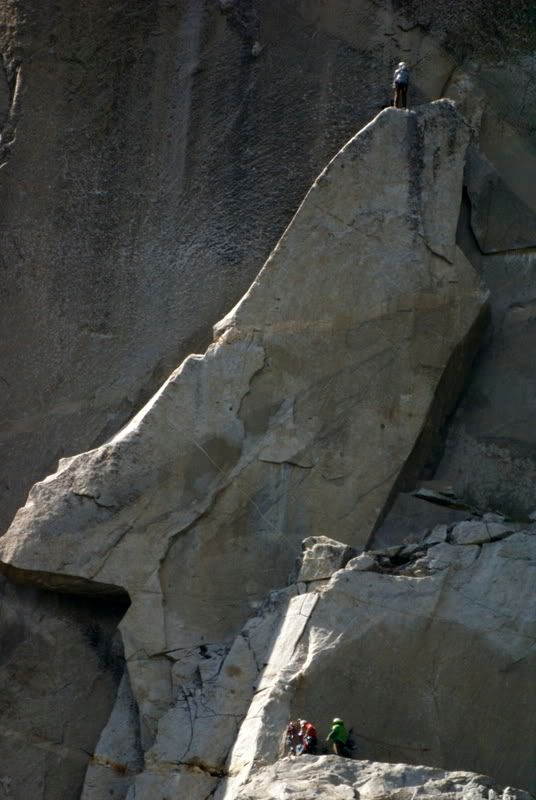 Logan fixed Texas quick and it was time to sit back and relax, el cap style: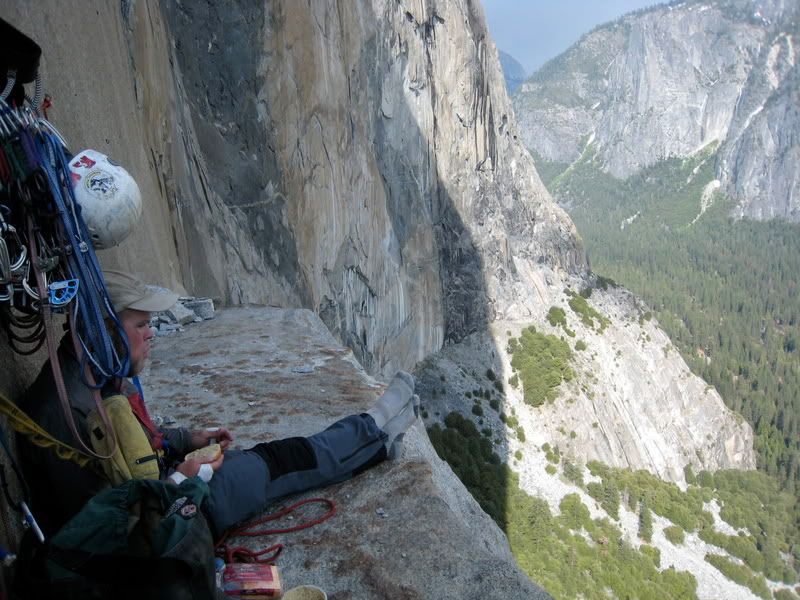 Fun to check out a team heading to the Bismark ledge on Mescalito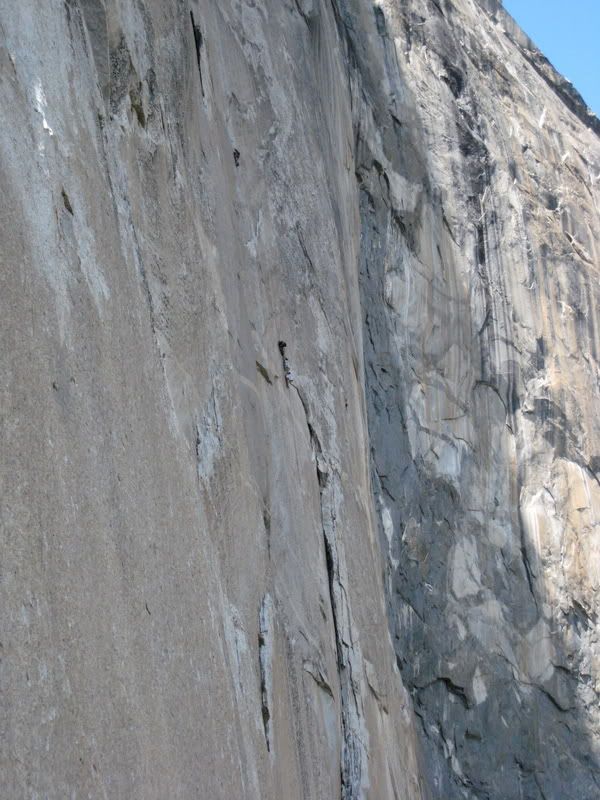 Then Kyle and Chris showed up with beers!


It got so windy in the middle of the night you couldn't get up to pee for fear that your sleeping bag would blow away. We had had a nice rest in the evening though and were psyched so we mushed on to give Kyle and Chris some space:


Aaaiiiight, Boot flake:


I was almost blown off several times so finally I just laid down. Nice


Kyle styling the Texas


The winds miraculously died down and the psych soared.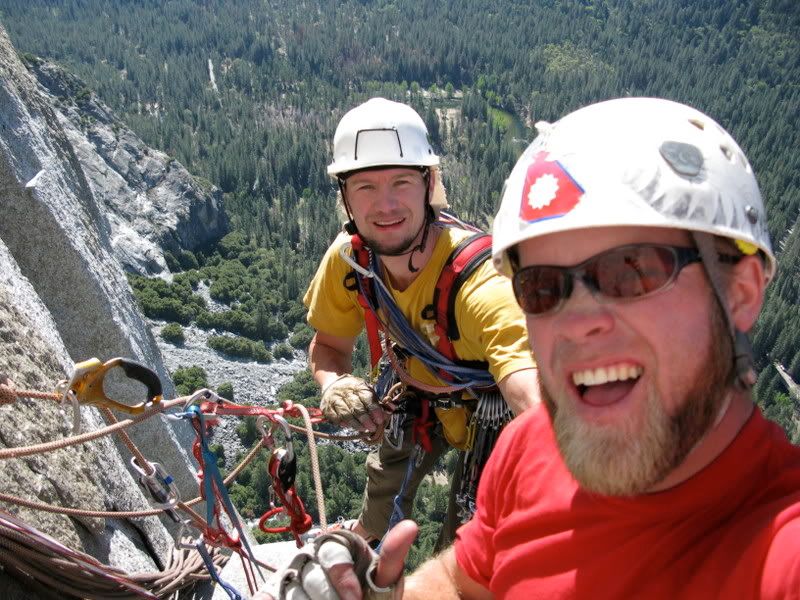 Logan hitting the swing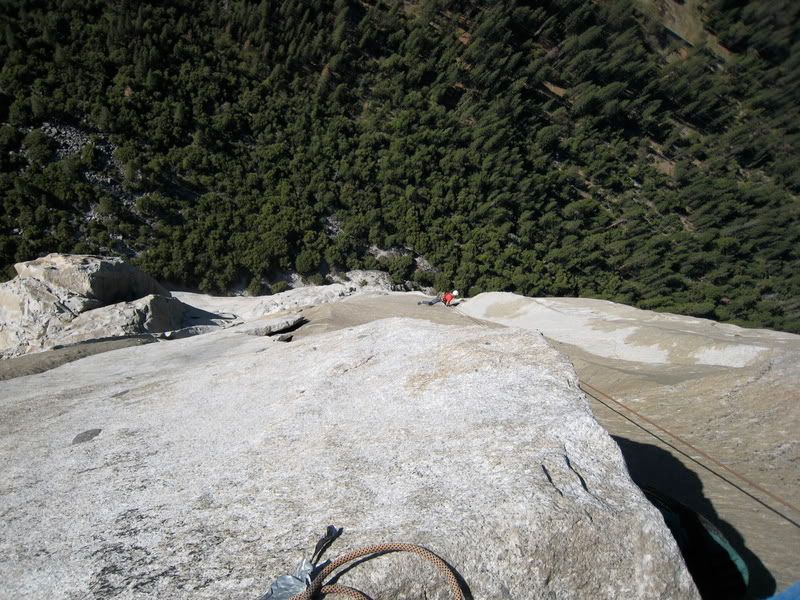 Tom Evans shot of us in the Grey Bands:


Me taking us up to the Great Roof, with Bob and Moo above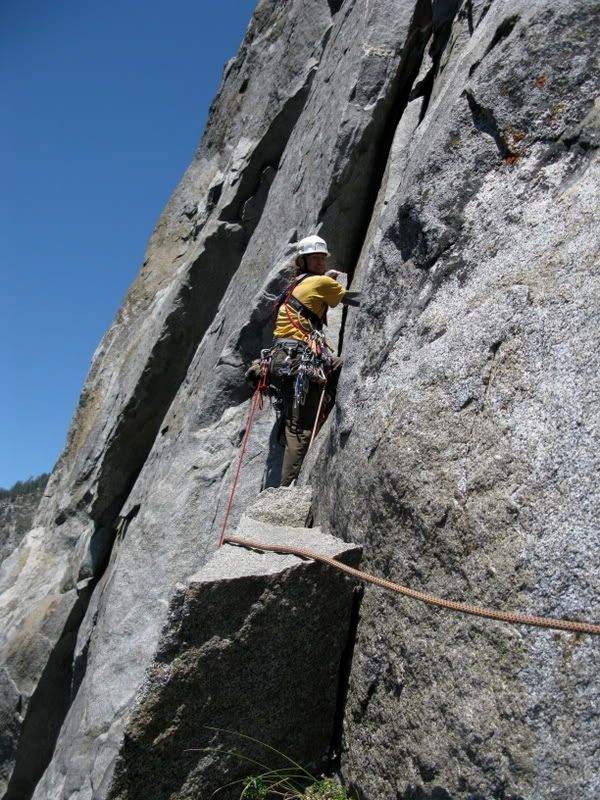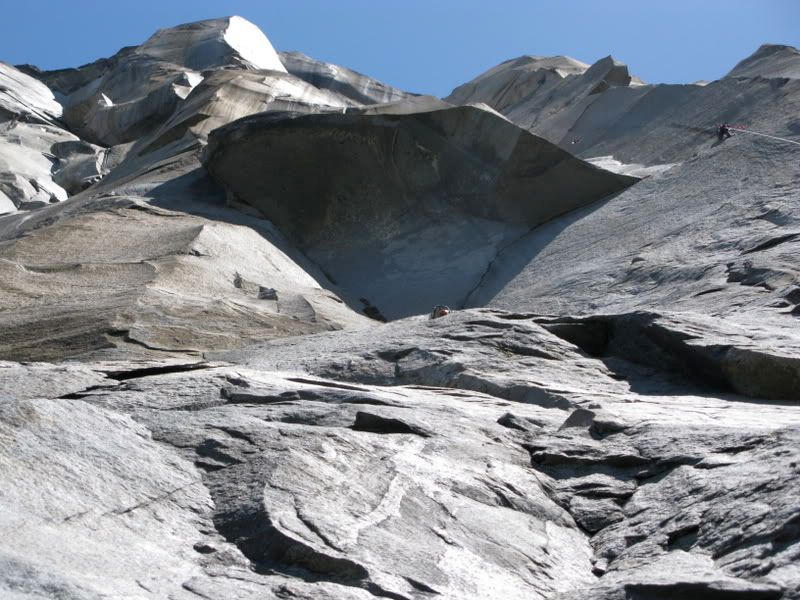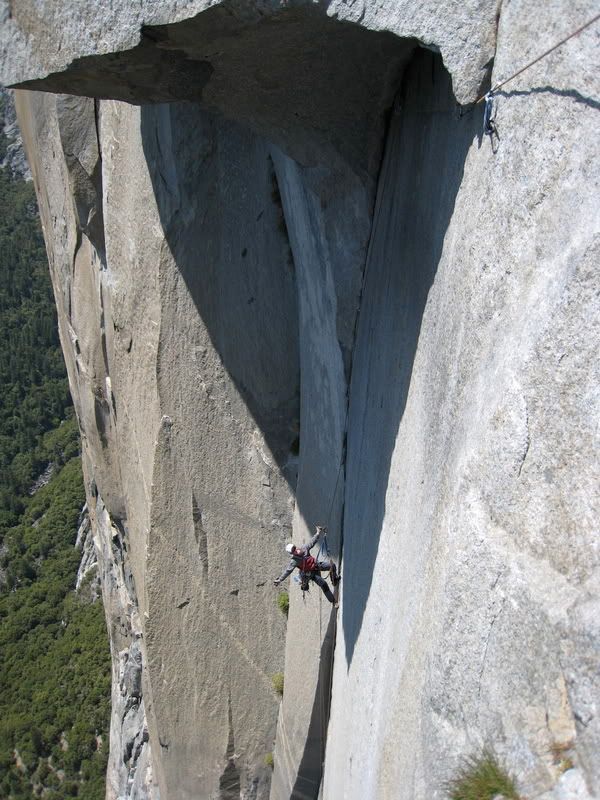 Tom Evans shot:


Logan on Pancake Flake


Me taking us up to Camp 6


Armed with my new Link cams I was psyched to blast to the top, but it was Logan's first time so we settled in with Bob and Moo at Camp 6:


I fixed the Changing Corners pitch the night before so we could avoid a cluster in the morning. Shade was dreamy for that steep climbing.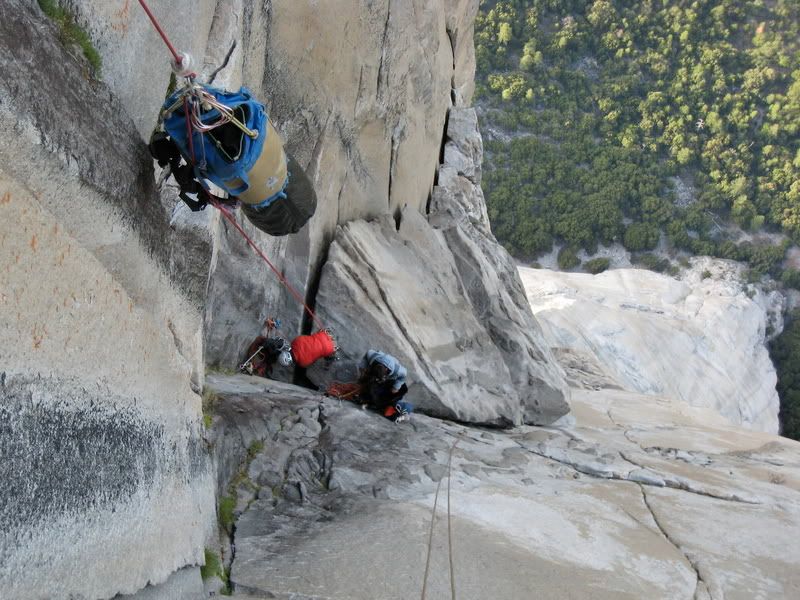 Logan cleaning the 5.8 hands three pitches from the top. Yeah, 5.8 hands three pitches from the top of El Cap. Ohhhhh yeah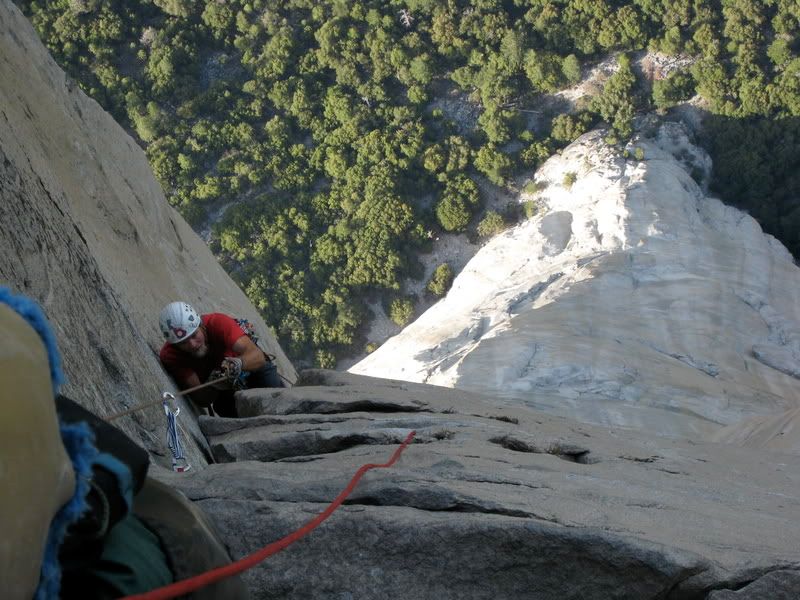 Logan took us to the summit


And then it was time to be a lizard with that amazing High Sierra view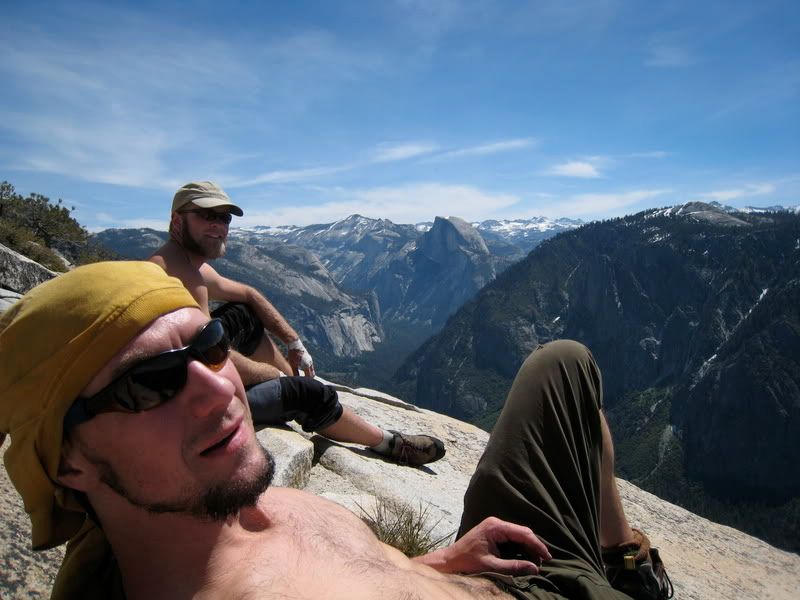 Much Thanks/Love Many Cheers Le Cap and Richie, Logan, and the other crews,
e

Things that make the Nose go Ahhhhh:
1a. Great partners--unlimited ecstasy needs like minded souls
1ab. Offset Aliens for the first 4 pitches(one of the few el cap routes where Aliens are not so mandatory, but they sure feel pretty sweet at the start)
Link Cams--the last six pitches(and most of the Stovelegs) can pretty much be climbed largely with these jewels saving a ton of time and hassle(we just brought 2 of the bigger Orange size, cause while the small ones look good you usually need narrow units that size in Yosemite).
Skinny haul line (8mm is good) for the free climbing
Climb On bar--for after cleaning with wet wipes, keeps the hands happy.
Wag bags....cause they're heavy duty. We didn't bring a dedicated poop tube bag which would have been nice for keeping the smells contained.
Pocket camera