Climbing El Cap is as good as it gets. A bunch of friends had climbed Octopussy of the last couple years so I was excited to check it out. With just two days off a week and no one around who wanted to do it in a push I decided I would settle in for a nice siege of the climb: just enjoy climbing with different partners and fix high enough that a final effort would be reasonable in a weekend. Hearing of the sweet ledge atop Peter Pan, three pitches up, really made this plan possible. The initial pitches off Peter Pan(pitch 4-7) I believe were first climbed by Bruce Hawkins and Mark Chapmen in '77 or '78 on their first attempt at Never Never Land(they thought it would take too much drilling to finish the route so bailed over to the Aquarian start). Dan and Sue McDevitt passed their high point and added a few new pitches to connect with Never Never Land. The old bolts from Hawkins and Chapman's attempt were pretty bad so it was fun to replace those. Octopussy is a fun classic A3 route that is particularly beginner friendly as most parties can easily climb and haul to the Peter Pan ledge(mostly 5.7) on day one, spend a leisurely day two fixing to pitch six and still get to sleep on the deluxe ledge, and then spend a few more nights on the wall.

The SAR team of Chantel and Libby were high on Dihedral when I went up to solo the first three pitches, which are easy climbing/crack juggin through pretty 4-5" wide.




Way to hang that rope ladies




With ropes fixed to the Peter Pan ledge it was easy to convince friends Timmy and Shane to go up and spend some weekends fixing and enjoying Le Cap.

Timmy leading pitch 4




Oh yeah, baby, this ledge is for real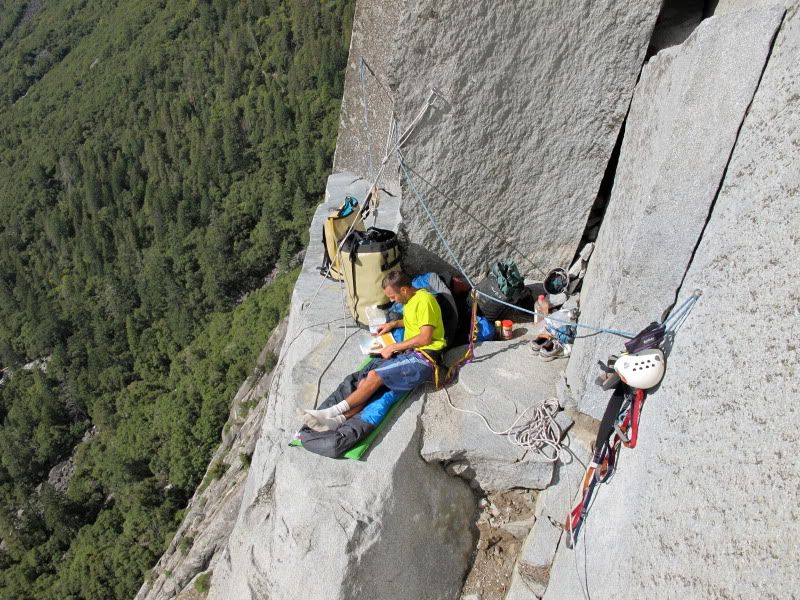 Some really old bolts from Peter Pan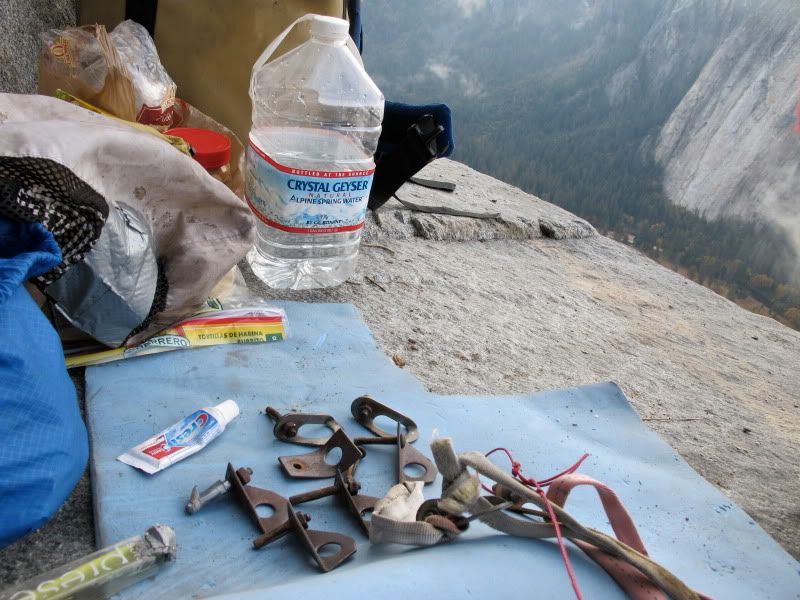 Tom shot us climbing the Octopus head(El Cap Report readers will remember T calling this feature Half Dome on El Cap)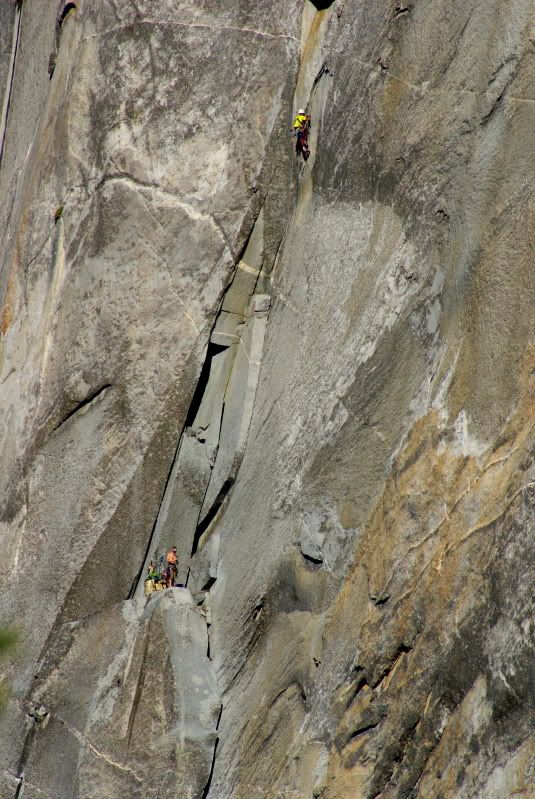 Super sweet, long pitch.




This doesn't do her justice, you'll have to check her out




Awesome Hawk that circled us for spell



Some short storms came through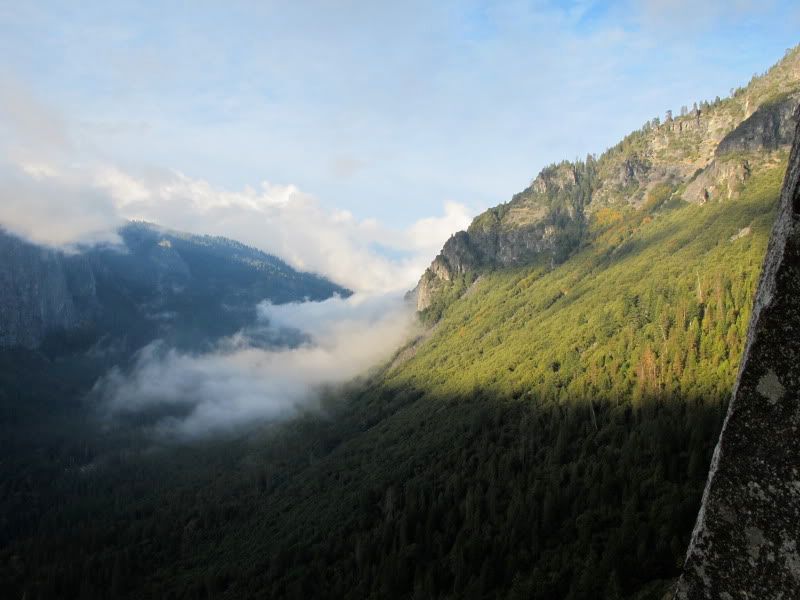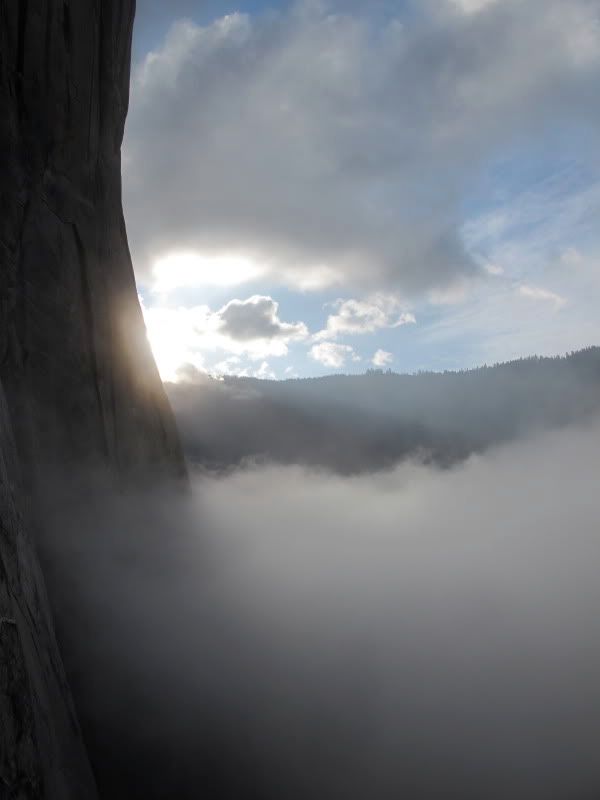 Funny story, after Timmy took off this massive windstorm blew through the valley, untying this loose backup knot that I had anchored the bottom of the fixed line from the top of pitch 4. The line and all the rack were anchored up at the top of pitch 6 and now had blown horizontally over and was stuck on the West Buttress; to make matters more desperate the valley was really empty of climbers. Luckily, Alik was working in Yo West so borrowed his rack and climbed back up to the rope/gear.

Hard to see the rope because it is white but it is there stretched sideways above with the rack waiting patiently all alone at the belay.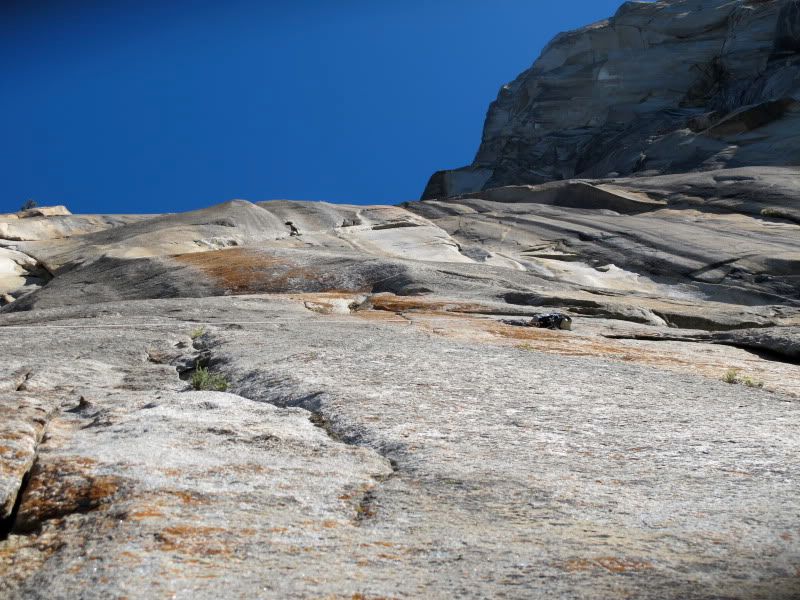 Looking up the Octopus head pitch, after I soloed it on the way back up to the stuff.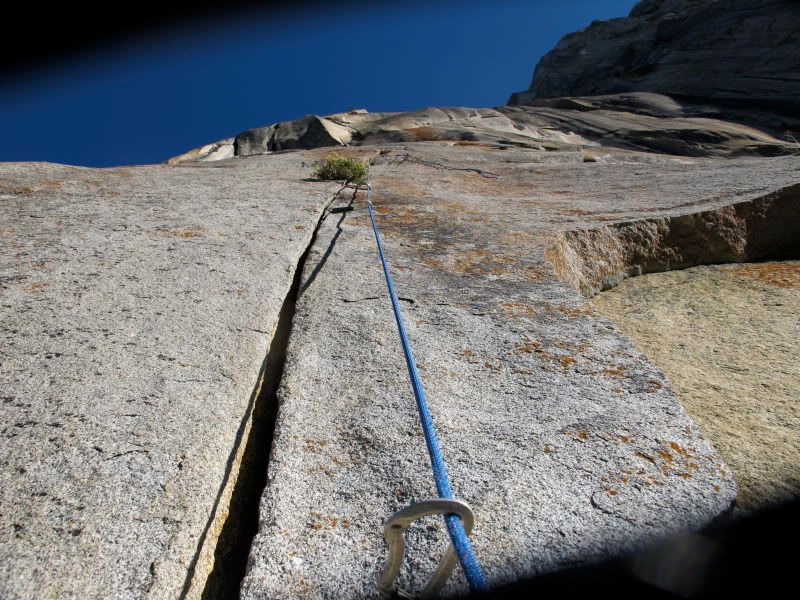 Shane came up to play for a weekend so things moved a lot more quickly then.
Re-leading Orange Crush, though I thankfully got to skip the thin section at the end by snagging my fixed rope and jugging it.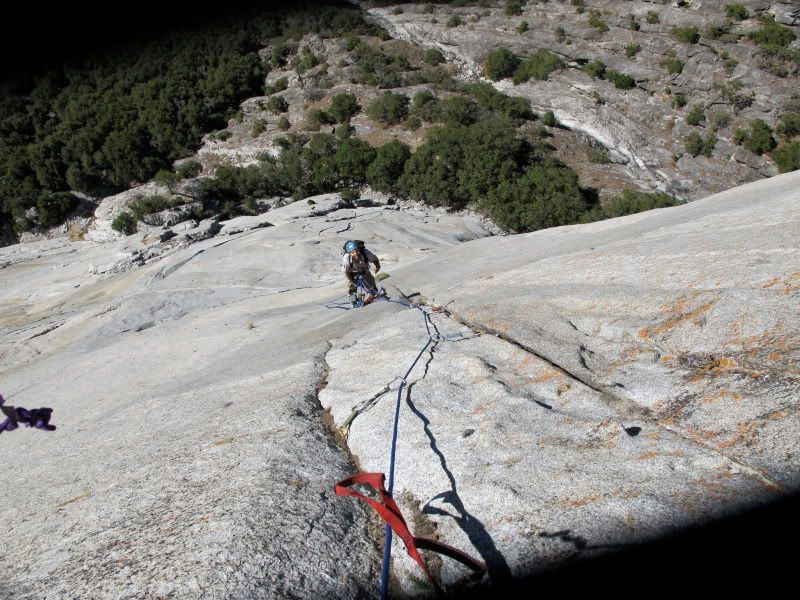 Good times on the big stone, fixin, juggin, replacing old hardware, livin the dream. I mean, we were bustin our butts up there.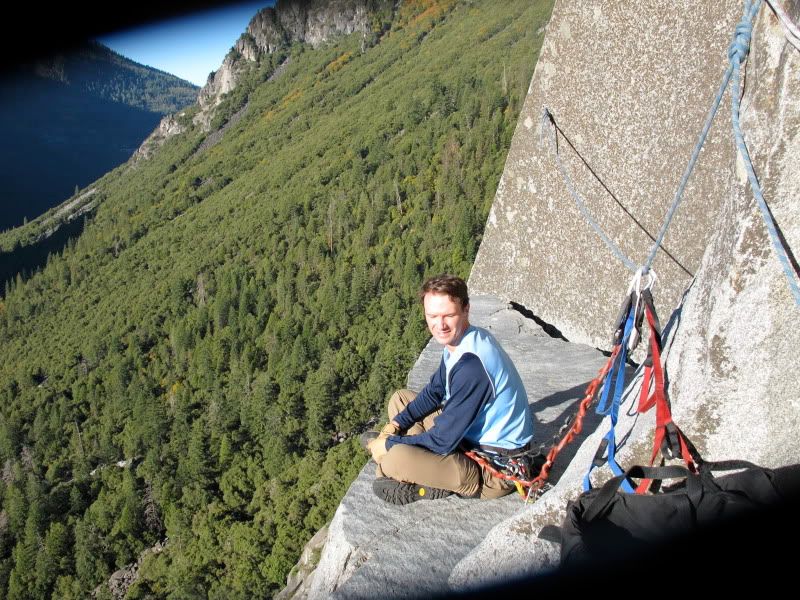 Shane cleaning pitch 7



Pitch 8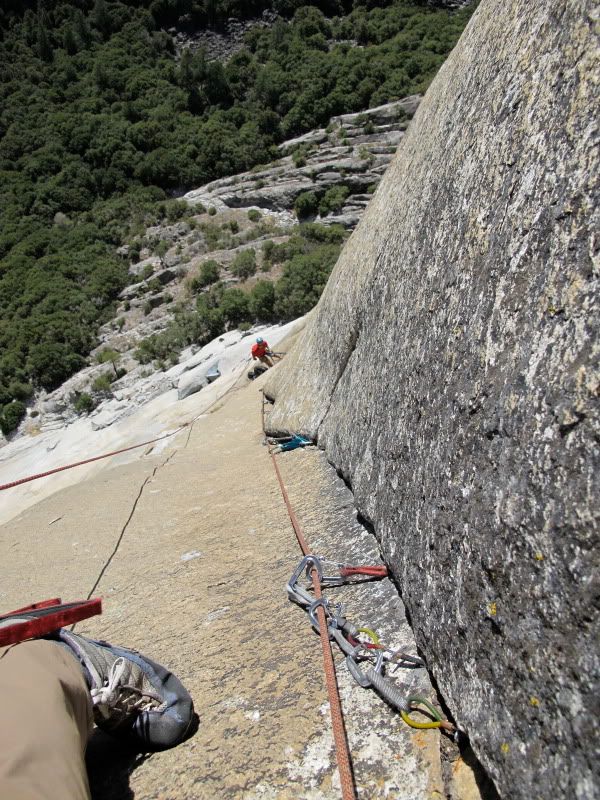 Timbuktu lookin good!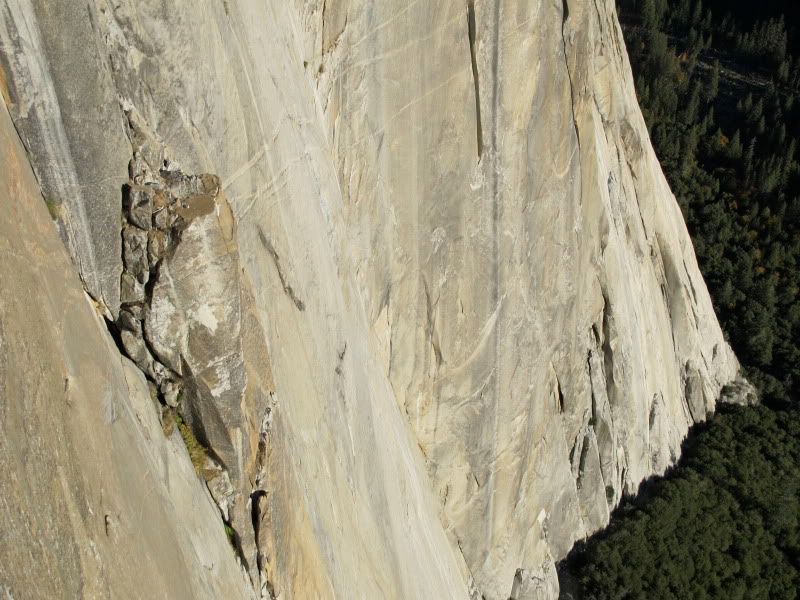 Cool folks on the Salathe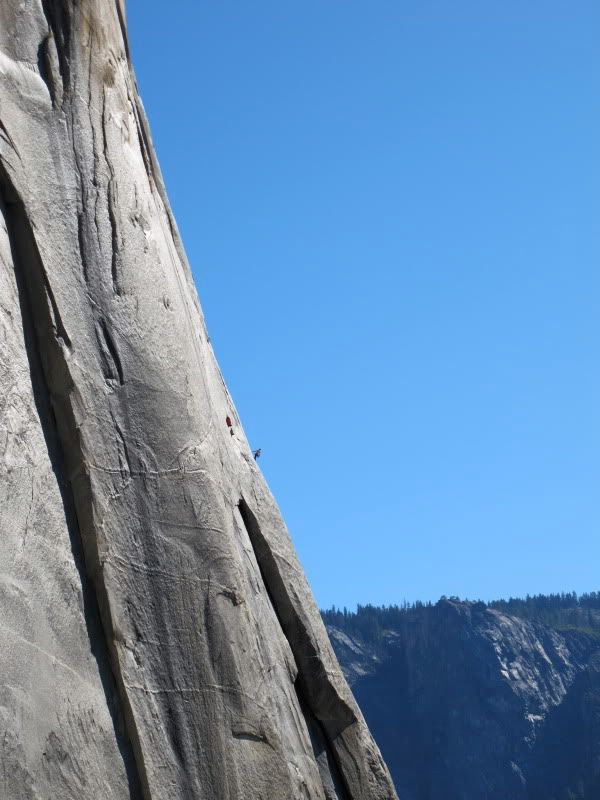 Cleanin pitch 8




You could really tell when the reign changed hands from 70s climbers to 80s(more freeclimbing-minded) climbers.
'Whatya taking up there for anchor gear?'
'Ahh, I got some big ol shuts my buddy welded up after work one day'
The easy rappin anchor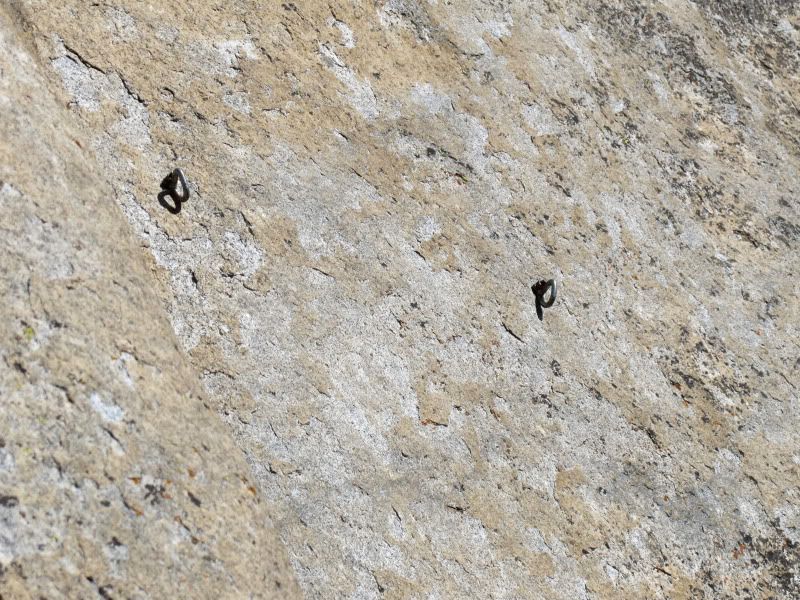 Fall '09 was particularly beautiful. So going down to work wasn't that bad either, scenery wise.




It looked like someone had tried to repeat Winds of Change, leaving this bail rig. Story?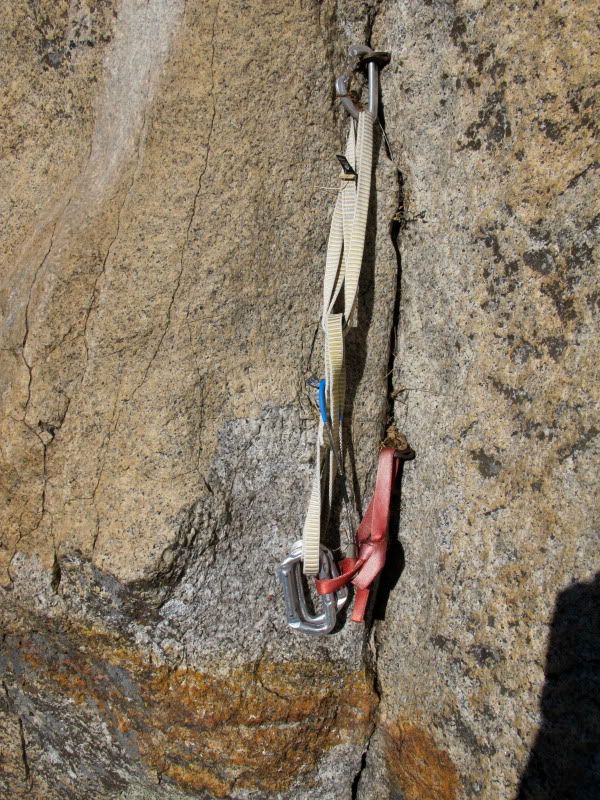 Fun mantle at the end of pitch 9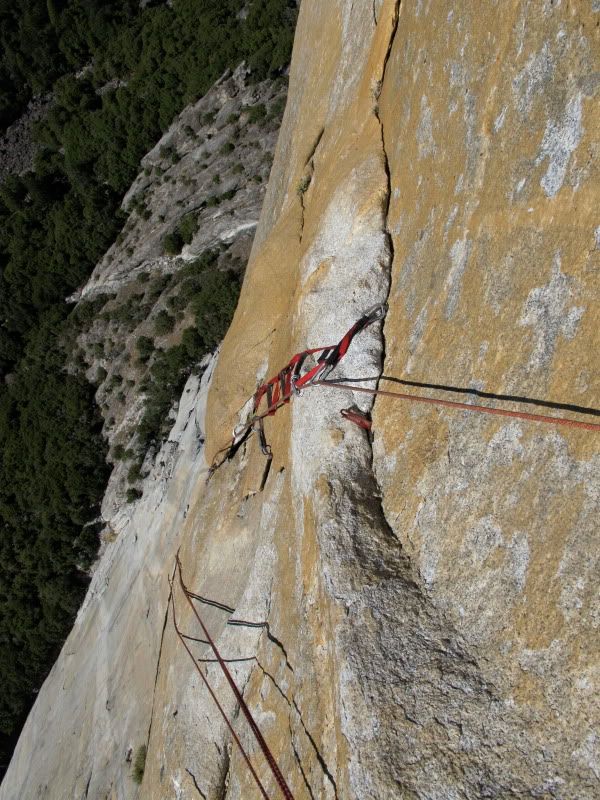 S cleanin 9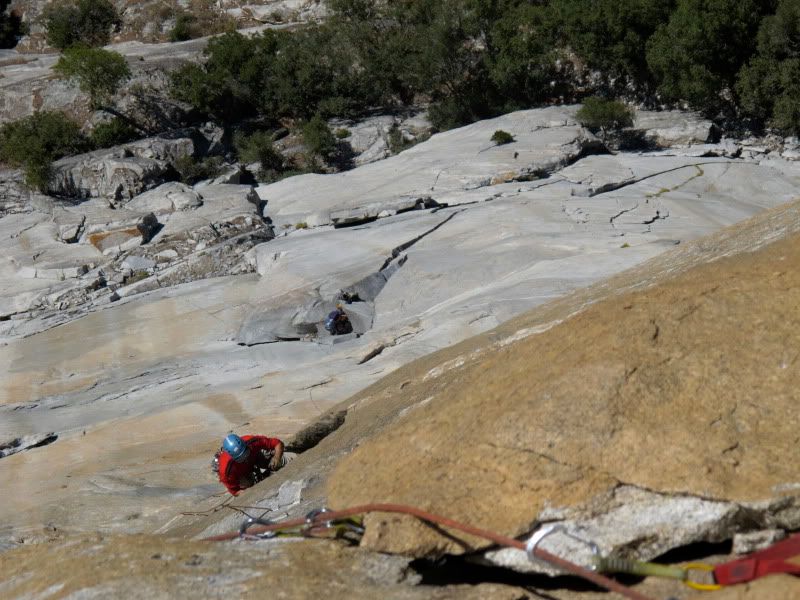 There sure is some gorgeous rock out West




the Easy life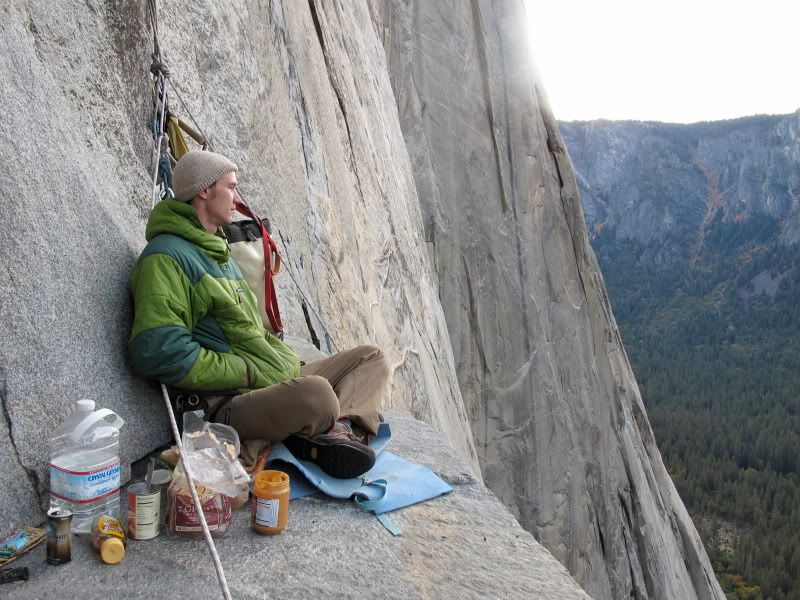 Richie showed up for the final push to the top. The climbing was gorgeous if you like great rock and never too hard aid. It was dark by 530pm so we had to climb a little by headlamp but loved every minute of it.

Ahh shoot, Sum Sum Rich in the house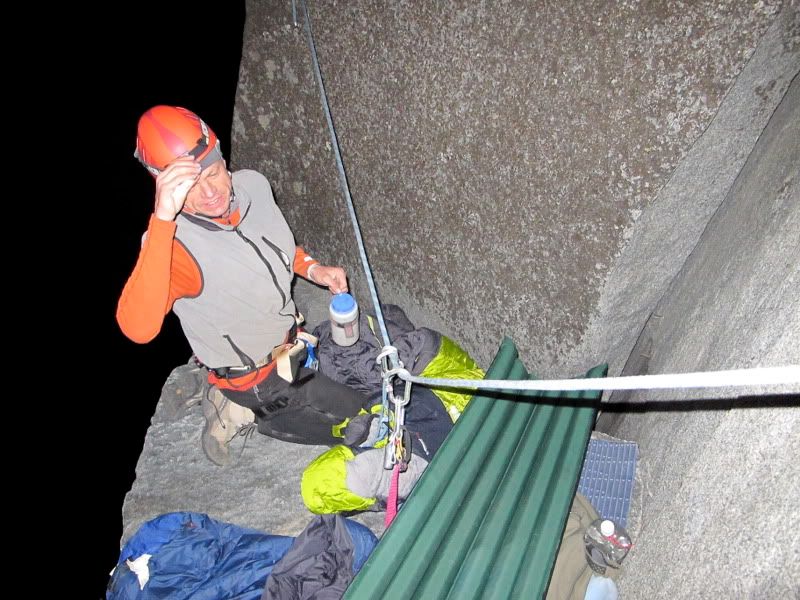 Only your bros put up with 3am starts because of your work schedule. Yeeeuh Richie.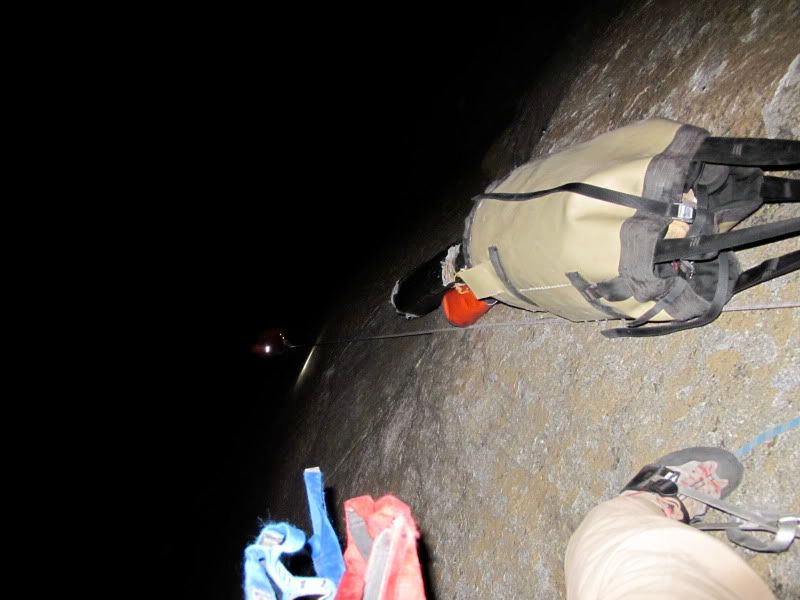 We got to the top of the ropes just as it got light. Richie enjoying pitch 10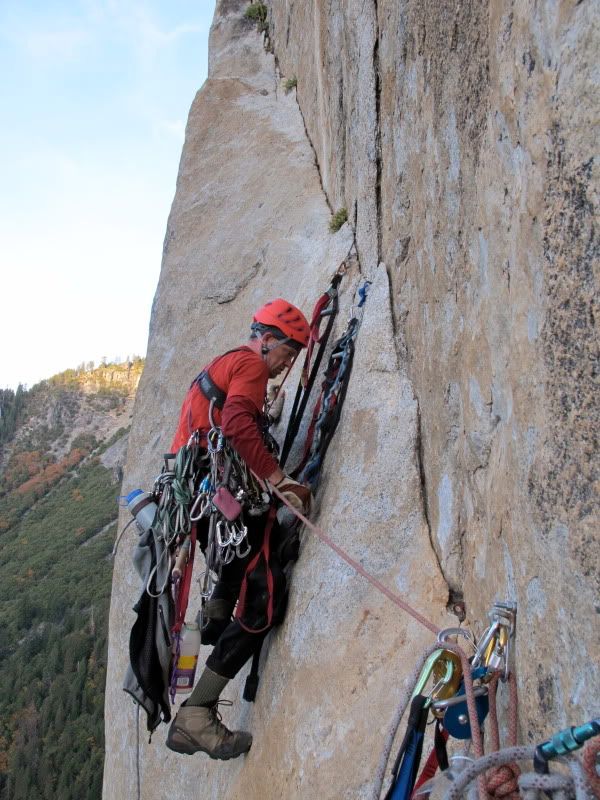 Steep enough!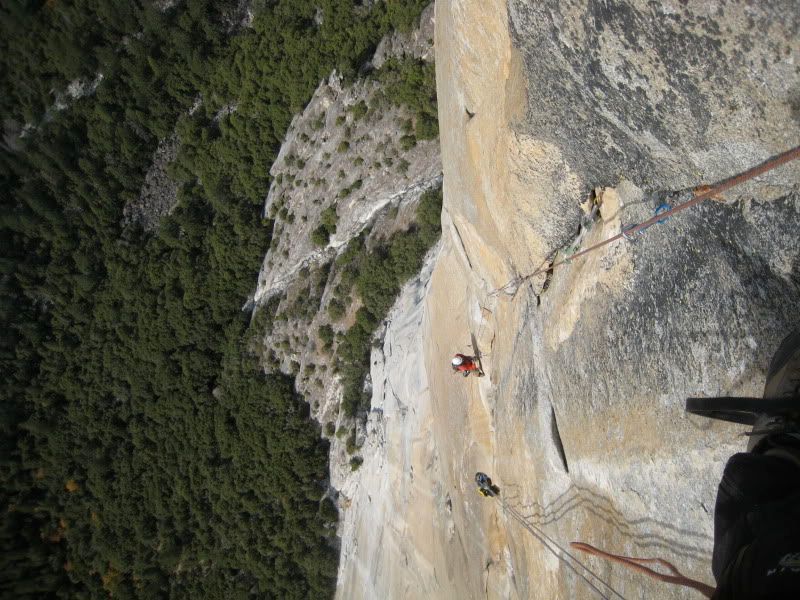 Theron gifted some sweet bolt hangers. Thanks bro!




Richie leading pitch 11(the rivets in the foreground were added. Whodunnit?)




Me on pitch 12




beautiful rock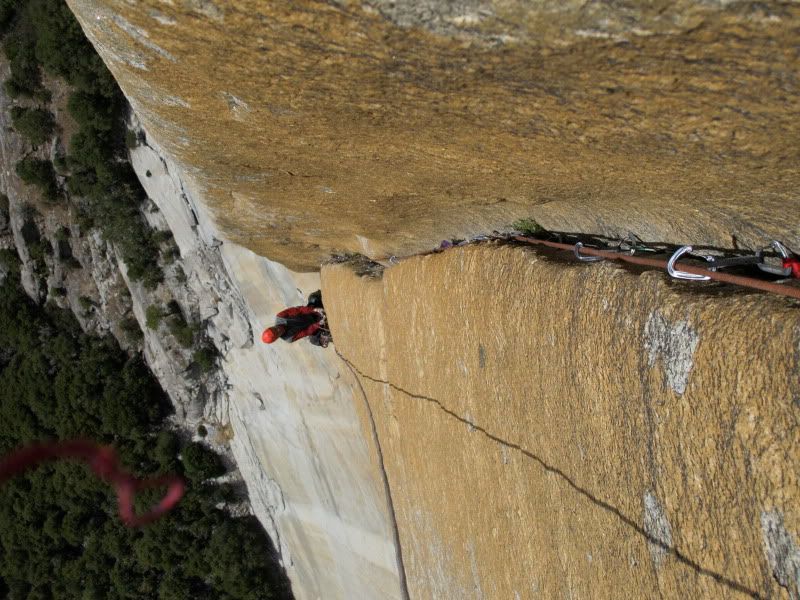 Always toasty in the ledge with the fly on





The upper pitches were a dreamy blur of cool climbing and outrageous views.

Pitch 14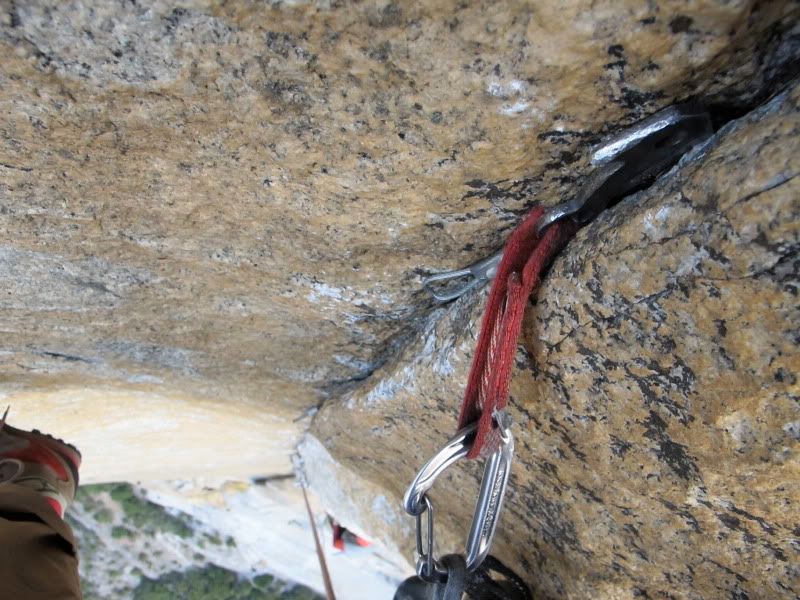 I pull up on Long Ledge to a surprise




Holy Birdbeaks Batman!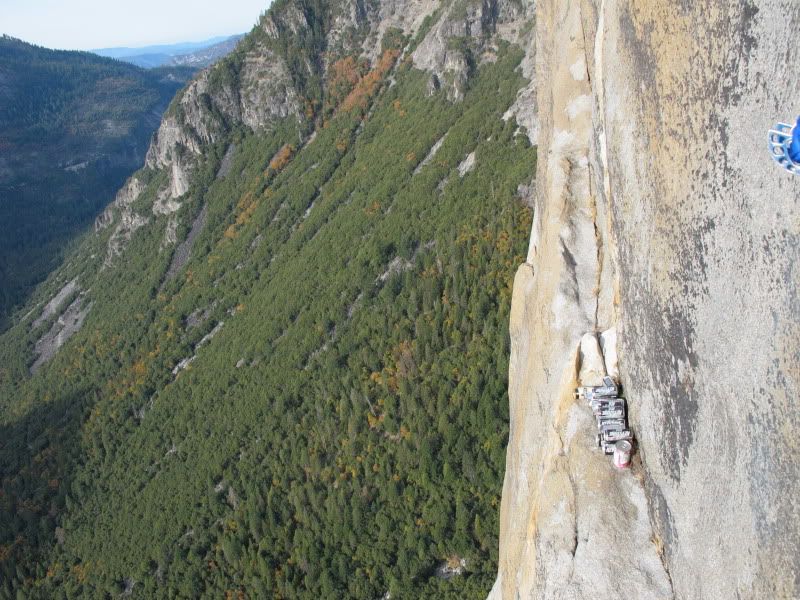 the pitch up to the Pinnacle of Hammerdom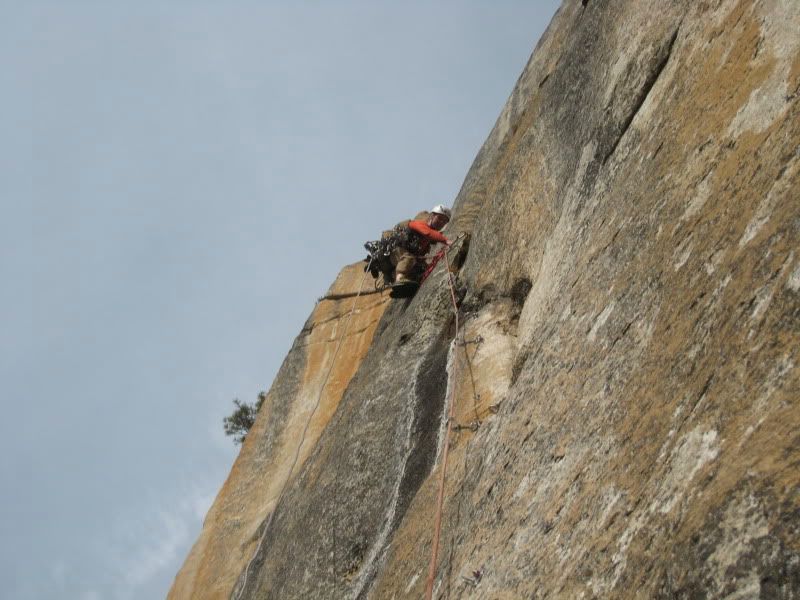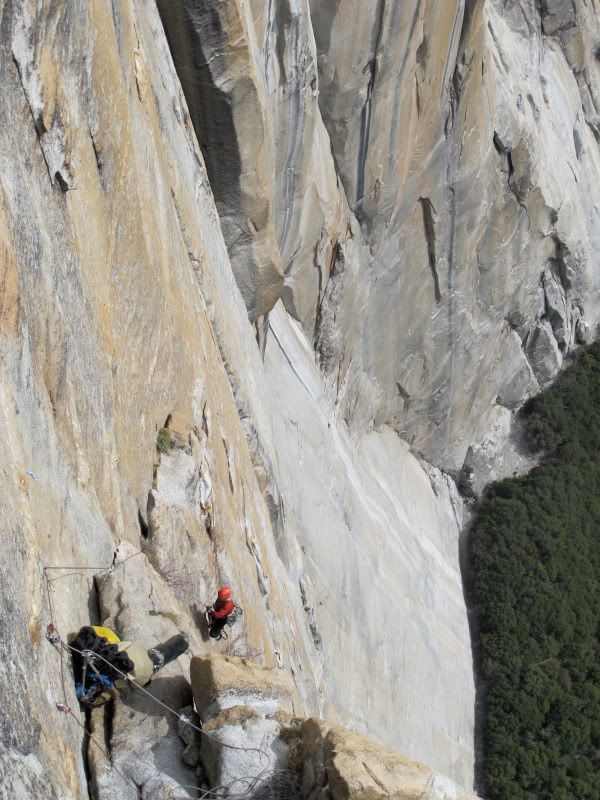 We opted for the much less classic but faster Hole World finish.
Got blank?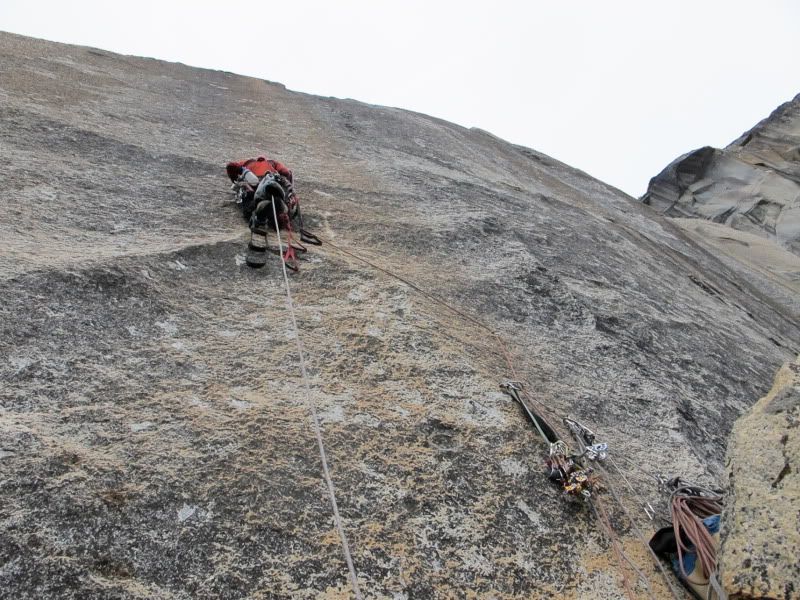 Richie starting up the last real pitch, the 10a off Thanksgiving ledge around 6pm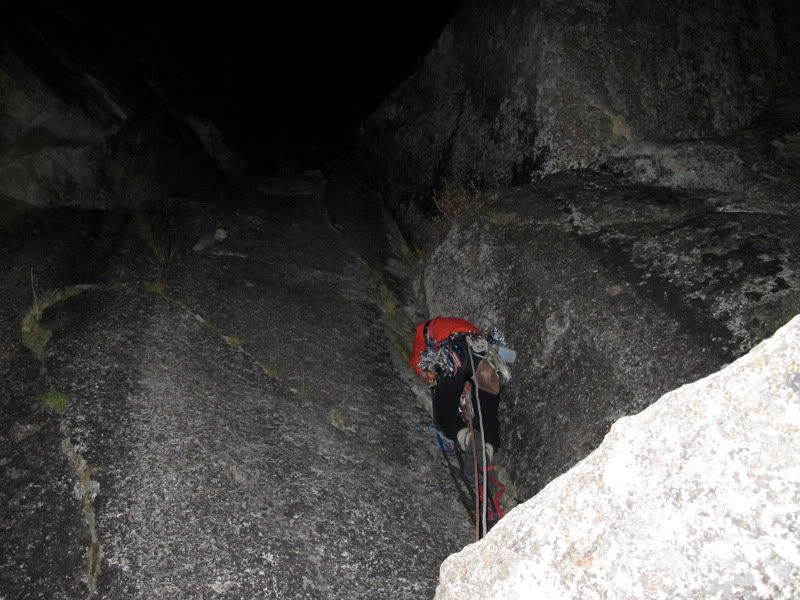 And then it was over. A month of playing on this great route culminated in a beaming starlit summit. Easy high fives. So much gratitude, deep smiles.

Octopussy is similar in difficulty to Never Never Land. Maybe a tad more traversing, but fun.
New topo




To download the topo as a pdf

http://cid-ac7b92e4a1d5c148.skydrive.live.com/self.aspx/.Public/Octopuss...

West Buttress does have the awesome summit bivy





Monday morning and I'm trucking down the ledges to make it to work in the afternoon.

This view is never gonna suck




Thanks El Cap and Richie, Timmy and Shane. I'm still dreamin!
Best
E

Cheers!