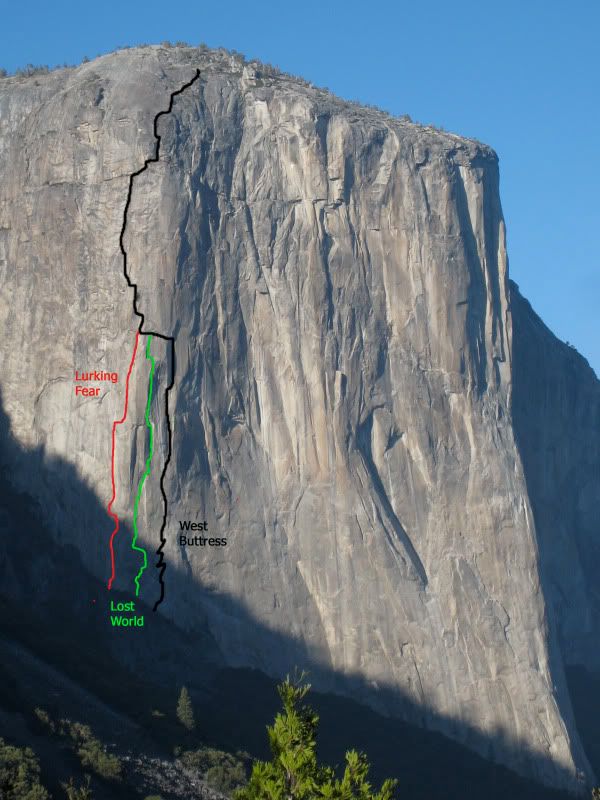 Special Thanks to our friends who graciously lent us the gear we needed for this climb:
Sum Sum Rich, Bigwall Kate, Ted, Micah and Skyler. Cheers!

For the past few years I've schemed of organizing a major clean up of a big wall route during the Facelift. Each year I've managed to miss the Facelift. (last year my stepDad Bob died, so sometimes legitimate reasons). So this year I thought I'd do a clean up climb before the Facelift to kick off the vibe. Having just climbed the West Buttress of El Cap with Holly, an awesome route with just a few early 60s vintage bolts that needed replacing, it made an obvious choice. My friend Jessica had been shut down by Le Cap a couple times and was eager to go along to the summit, and was also up for learning a little about anchor replacement (meaning she was willing to do some elbow pounding driling:).
Here's me and Jessica on the climb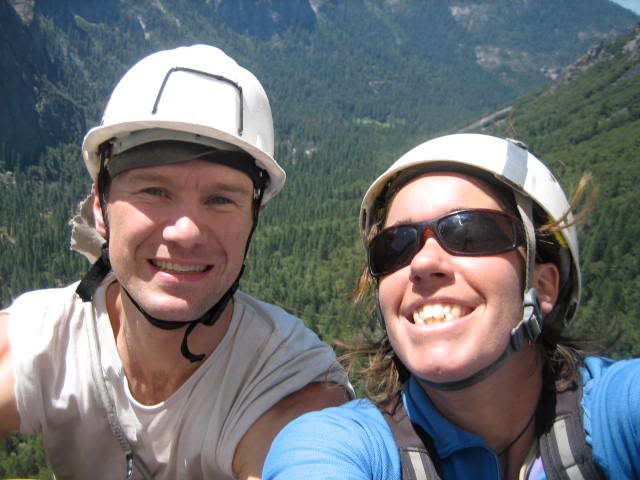 We went up to fix to three, this time with me leading the first two.
We brought the big bag, the portaledge and all the other accruments needed for big wall bliss.


The 5.6 flake to the left of the 5.9 is in Reed's topo but not Mac's. I loved that flakey up not wanting to get too pumped before the second pitch.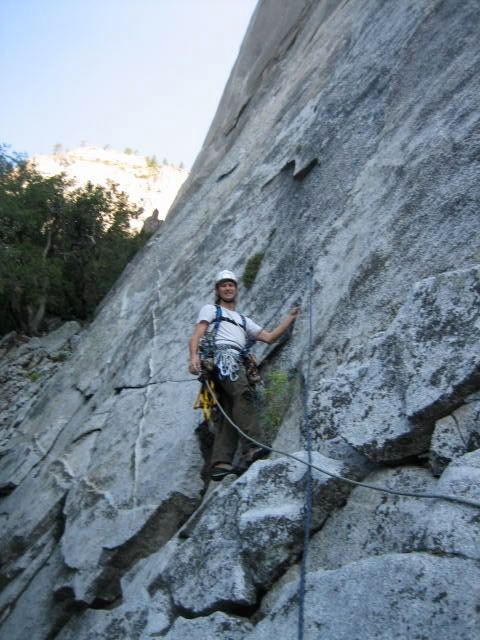 We didn't get any pictures of me on the second pitch. It wasn't that pretty, but I got up the thing with a little help from my daisy chains. Definitely more like 5.10 to lead and more like 5.9 to follow(mucho liebacking).
Jessica led up to the bolts that penji into the nailing on the 3rd pitch and it was time for me to go to work.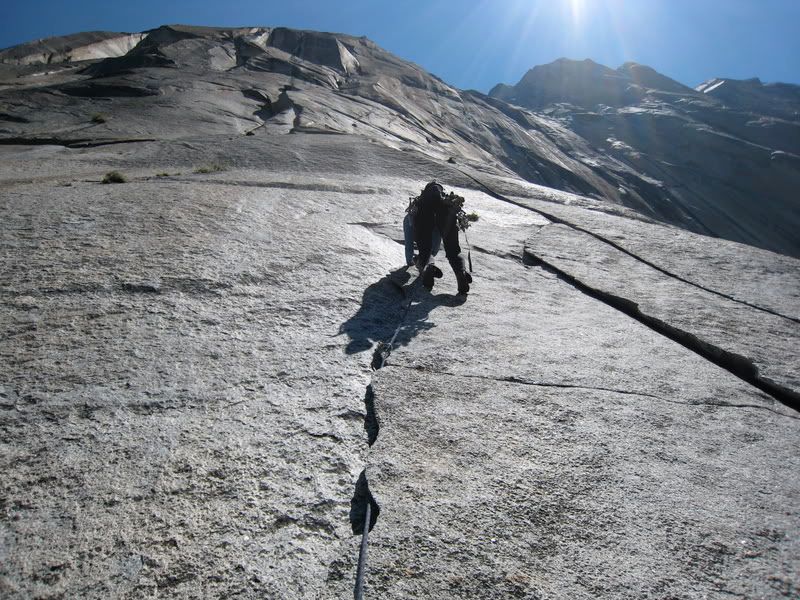 We blasted not too early on Friday morning with Jessica heading back up on the 3rd pitch a little before 8am. It was her first nailing lead, and not that easy of one at that, but she sent it like a champ.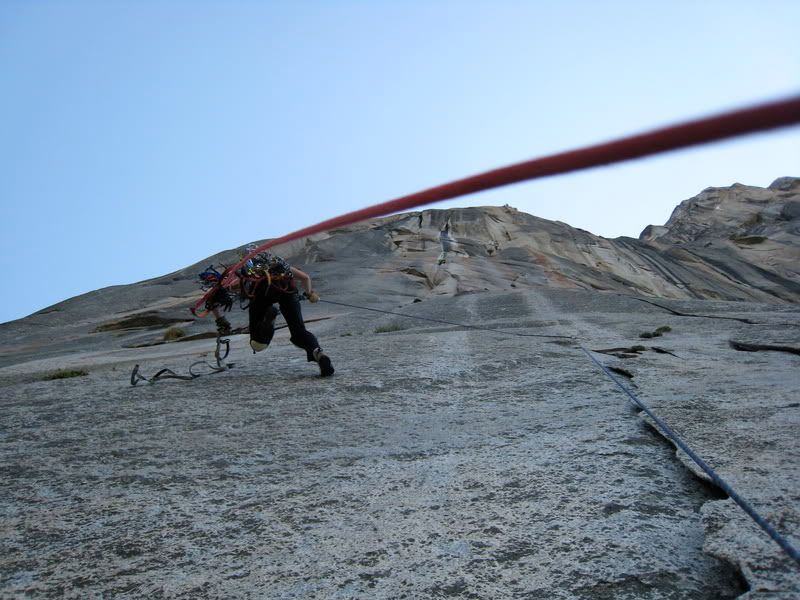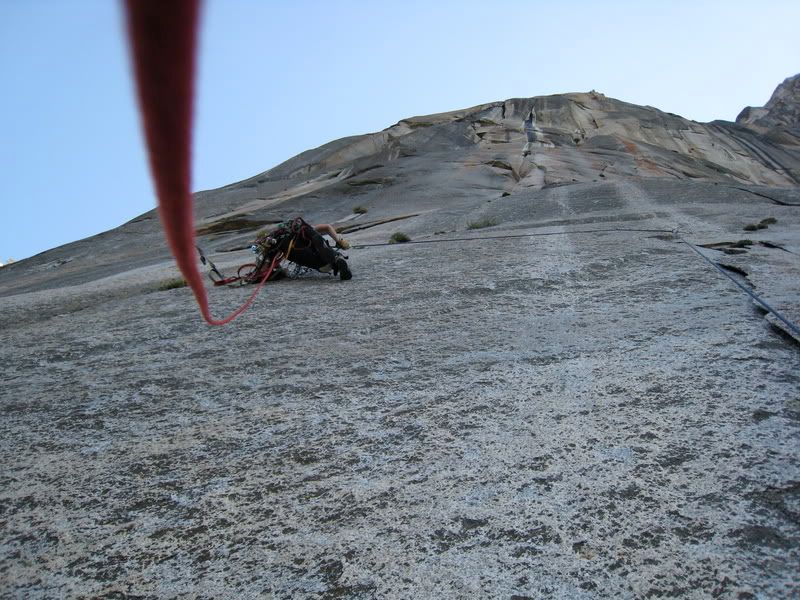 After a couple hours we started seeing a helicopter by the Nose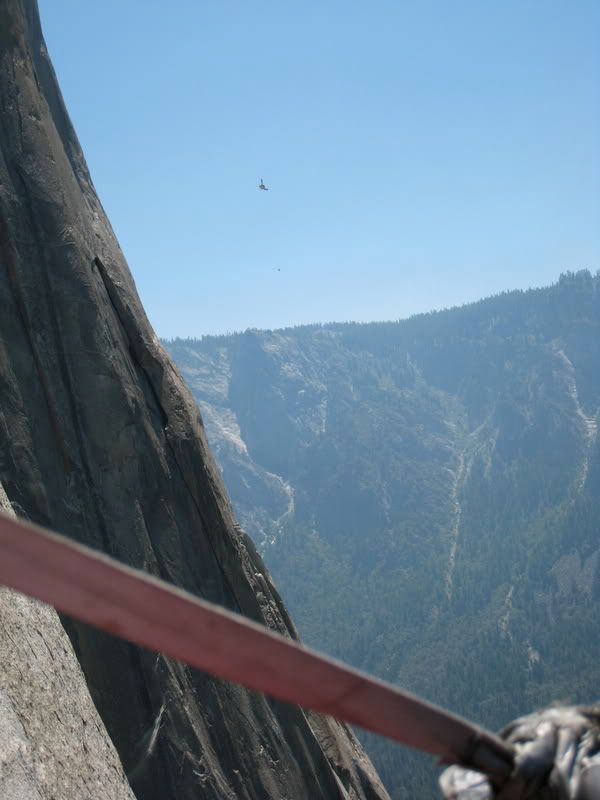 Jessica's friends Skylar and Eric were going for the Nose in a day and Eric had taken a fall and was badly injured. He was lifted off the rock and is recovering now.
Man they get those chopper's close to the rock!


Maybe you haven't thought about your first nailing lead in a while, but it was probably slower than you remember. Lets see how I'm doing at the belay
At first in the butt bag, filing hooks, organizing, ect.


After a couple hours, 'I've got all the work done'


Sometime later in the heat of the afternoon. "Tension?" nah, just kickin back, it's hot out there..(time passes)...oh me? tension? yeah, yeah sure, sorry about that, gimme a minute"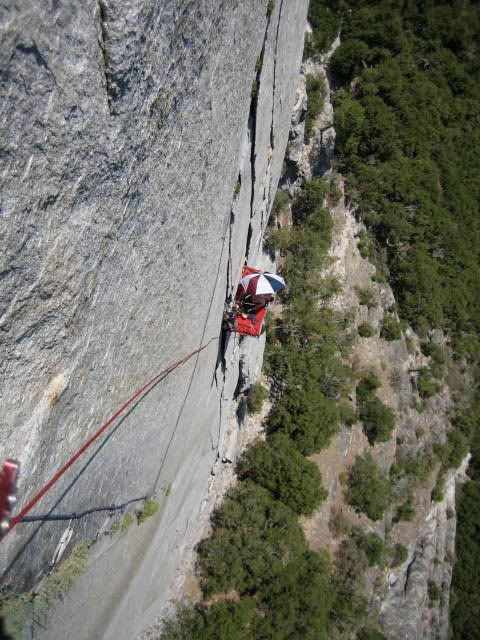 Jessica battled that pitch all day long.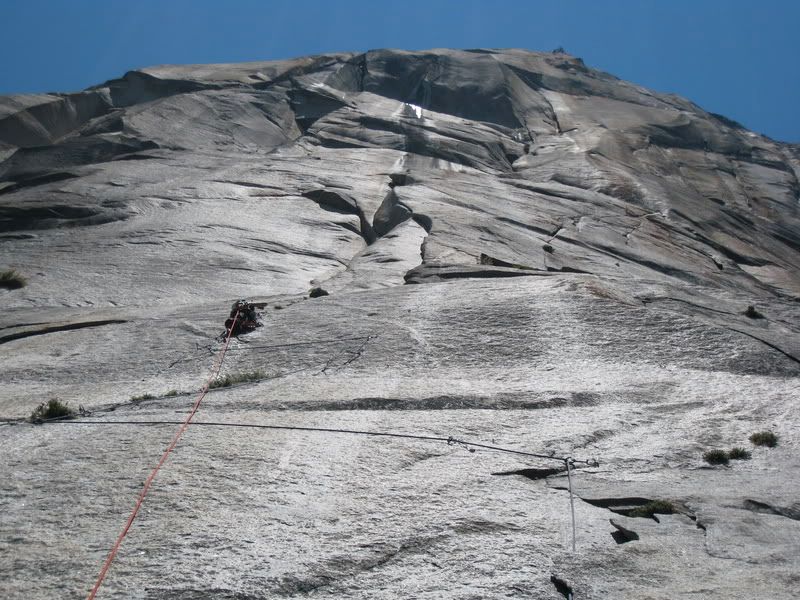 When I jugged up at 430pm I was worked just from the stress of seeing her struggle.
(the pitch isn't quite this steep)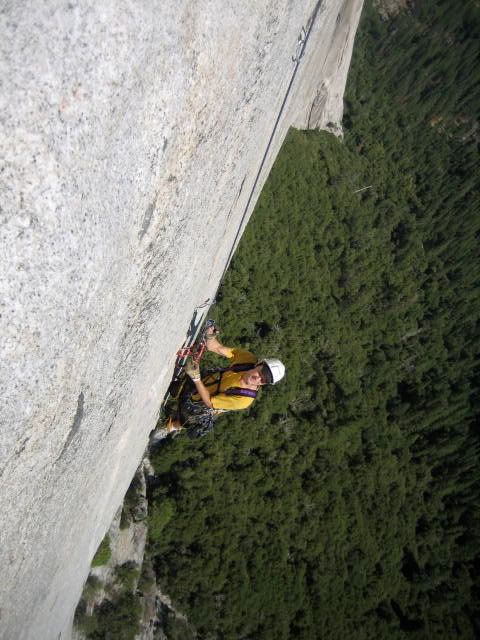 I fixed the fourth pitch and rapped back down.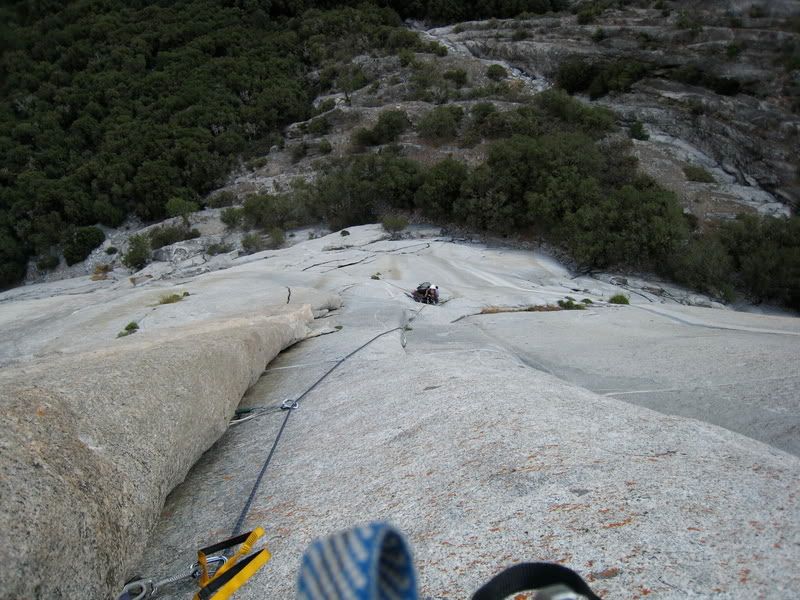 We set up the ledge early and just took it all in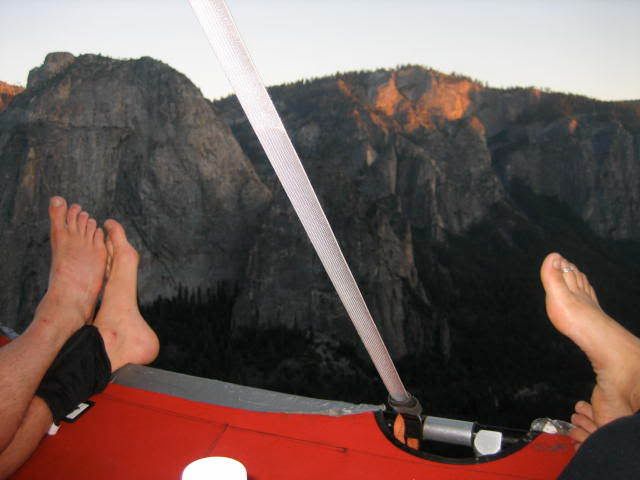 Now it was pretty obvious that we weren't going to make the top the next night, which was what my schedule necessitated so we decided to just enjoy a nice night on the ledge and fix our ropes to the ground and return the next weekend.
The next morning we did our first clean up work. Replacing this beauty 1/4"er that you use as a lead bolt at the end of pitch 4.


I forgot to get a close-up afterward but here's a shot of Jessica on the bolt when we lifted off the next week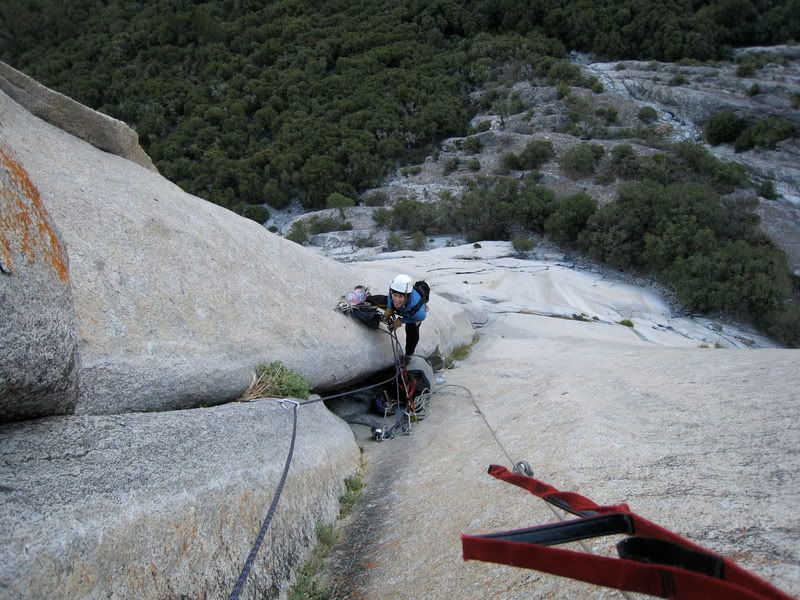 We had been seeing lots of rattlesnakes so my eyes were peeled as we hiked down. Nonetheless I almost stepped on this guy


During the week we went back up and hauled more water to our high point. Jessica learned how to use a 2:1 hauling ratchet which is a must for anyone under 130 lbs on a weekend wall or 150 lbs on a weeklong one. (She hauled 8 gallons of water and all the other stuff no problem!).
After getting up several mornings to beat the heat on this route I was ready to start climbing at night to avoid an early alarm. Jessica agreed to jug up and set the ledge up on Thursday afternoon and I showed up after work.
Pulling up on the ledge about midnight. I'm whooped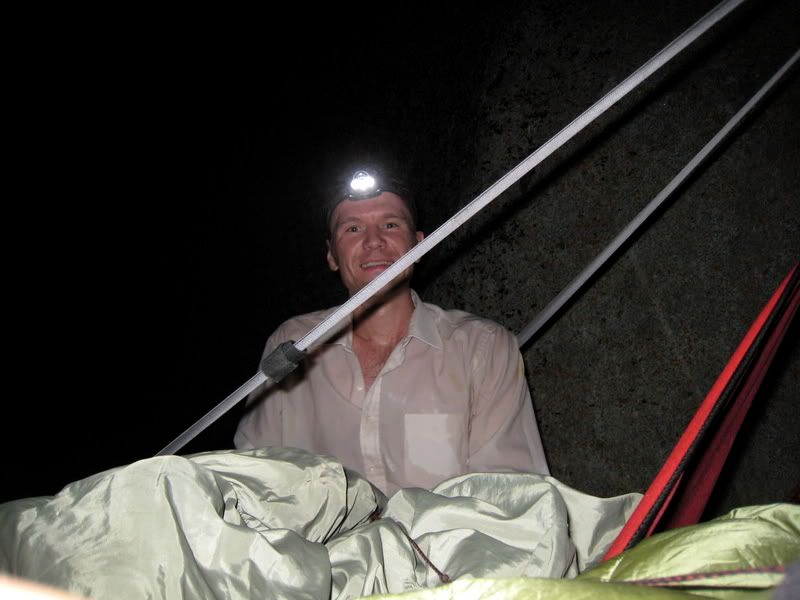 It was too hot for a long sleeve tshirt and Tom wasn't around to complain about boring colors so I went to the thrift store and picked up a nice thin buttonup for a couple bucks.....I just forgot the belt buckle, the wranglers, ect.
We got up leisurely, psyched to finally be heading up


I took off leading the wide pitches


at the next belay I replaced another lead bolt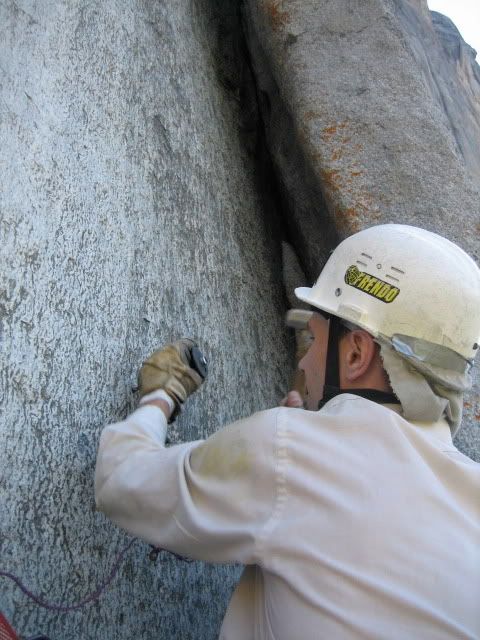 the new bolt is closest to me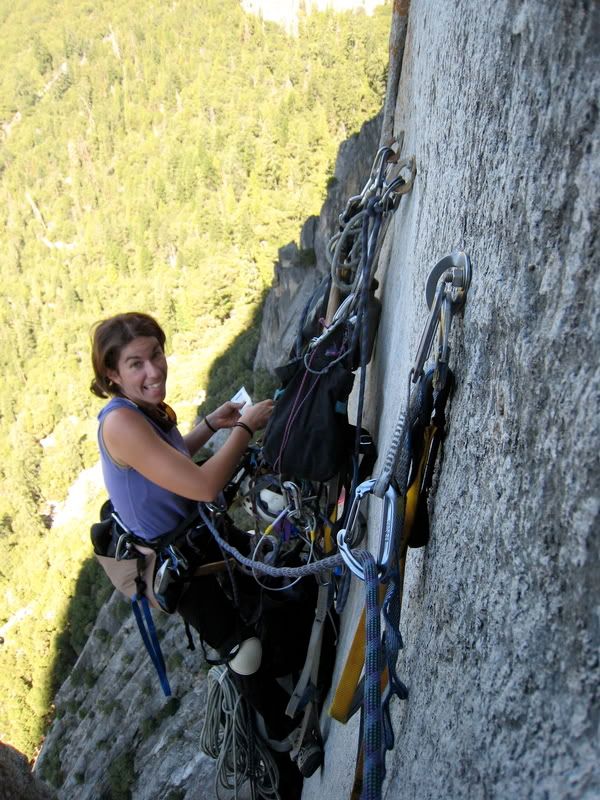 Now when Holly and I climbed the route she aided most everything, or just busted a few 5.8ish moves in her five tennies(Proud!). I was wearing my free shoes and still struggling.
Here's me starting up pitch 7


which has some mandatory 5.8 ow/squeeze at the end (Holly was able to aid this thin seem on one of the side walls in the offwidth but it wasn't working for my sized frame.
lookin back at my last cams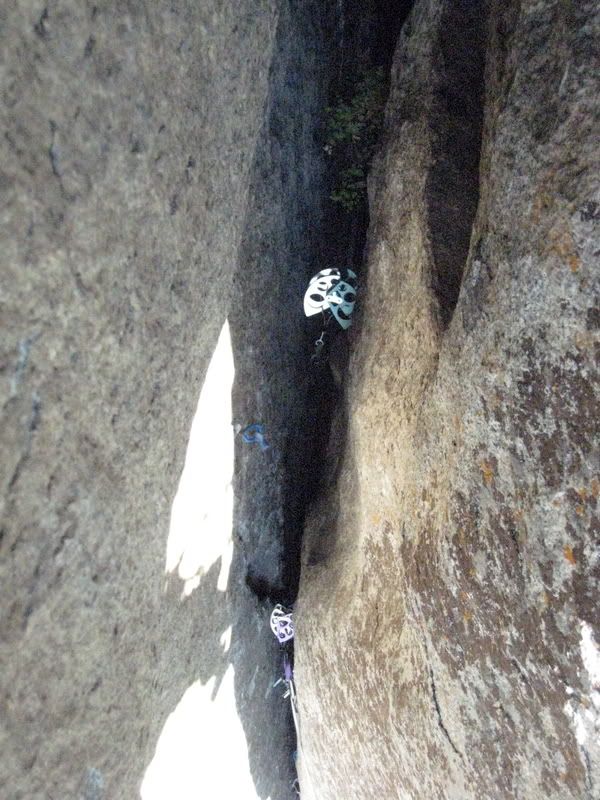 there was a crucial bolt to replace at the end of this pitch, and it was officially scorching out so we took a break to reorganize
Jessica shows up with her prayer flag wavin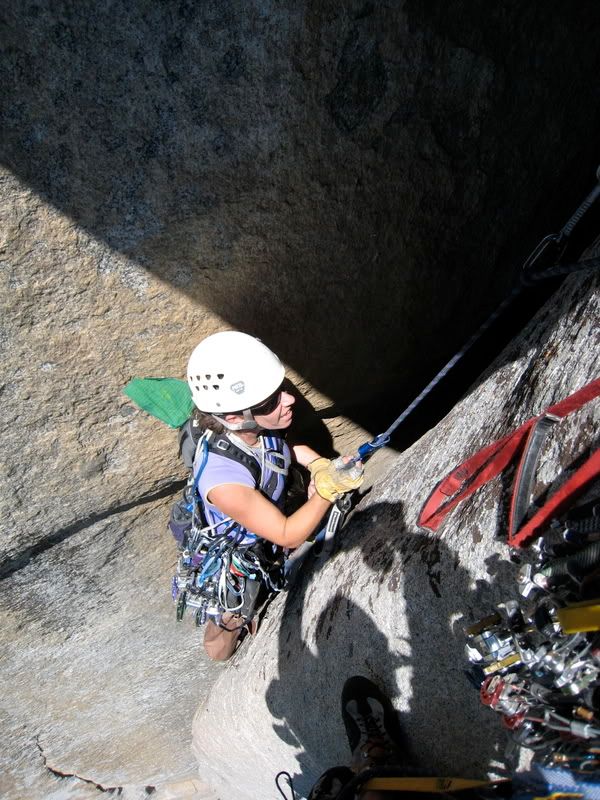 Jessica is right at the end of Pitch 7 in this picture where we replaced the bolt. Both this belay and the top of Pitch 11 had little roofs that the belayer could hide under and be completely in the shade. Deluxe!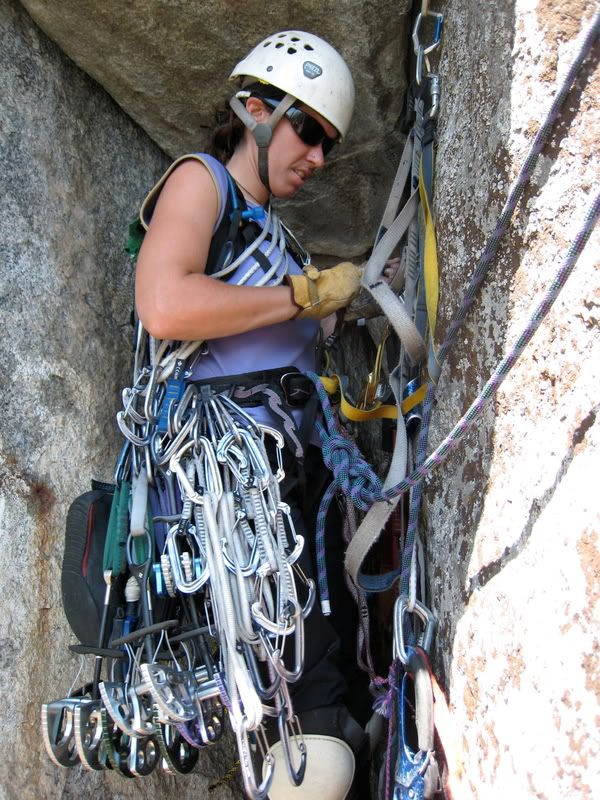 Having only slept a few hours I'm pretty beat so Jessica heads up the wandering 8th pitch


Pitch 8 is drawn the free climbers way in the Supertopo book, and just weird in the Reed guide. For aid climbers you just do a few moves up the crack above the belay and then move left into a 10 foot long C1 crack which ends at a stance above which are the two hangerless bolts and hook move to the C1 wide section that Reed shows as A2 and CMac calls A3.
I was hoping to replace the lead bolts on this pitch but ended up finishing leading it in the dark and getting to bed a little late. Le Cap never lets you off too easy.
The next morning I was still wearing some Jungle Chimney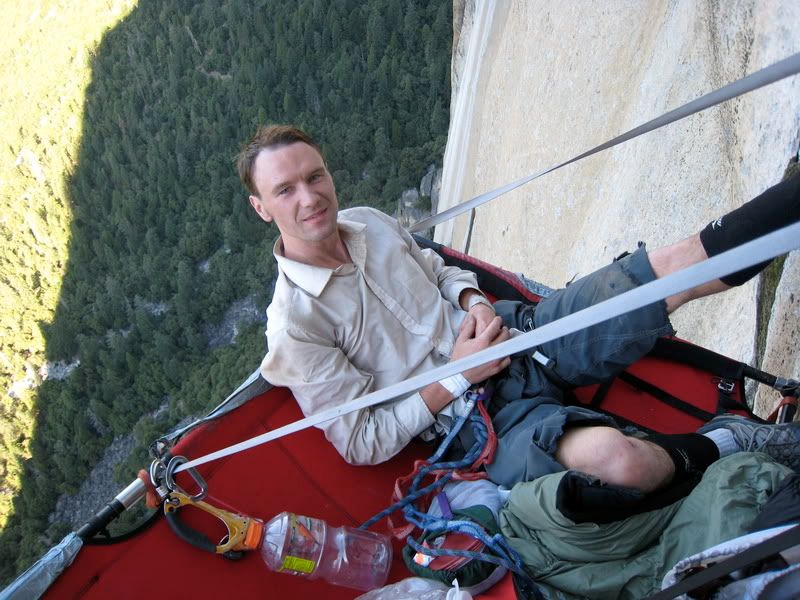 The route is pretty clean except for the eighth pitch,
check out this lawn mower's dream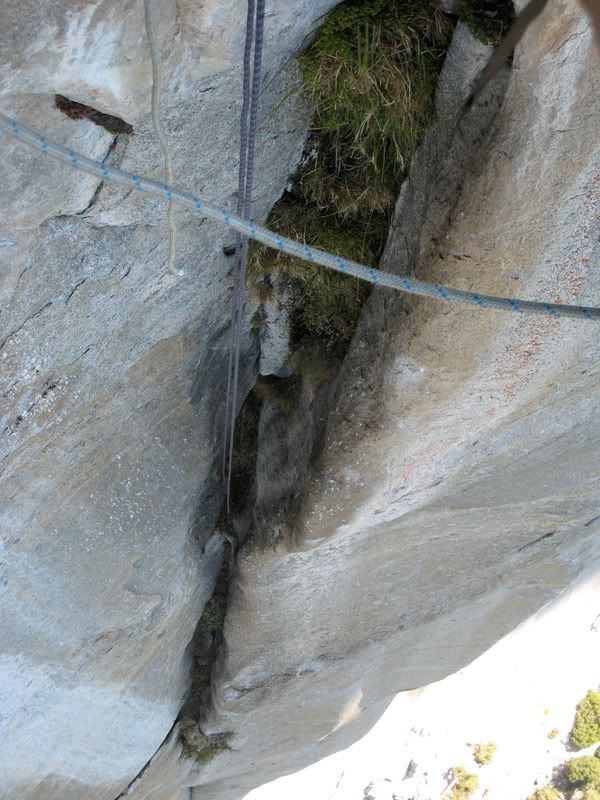 Staying with it Jessica headed up the 70 ft 9th pitch
Some excitement...
Jessica pulled the second piece and fell onto me and the ledge which I was off and was about to break down. My helmet took the direct hit from the cams but Jessica hitting the empty ledge sent many things flying. Thankfully everything but our wag bag was clipped in(we went back up to the base after the climb and picked up the bag/poop). Big wall tip: put your helmet on when your partner starts leading.
Jessica hit the belay just as we were going in the sun


cool rock shot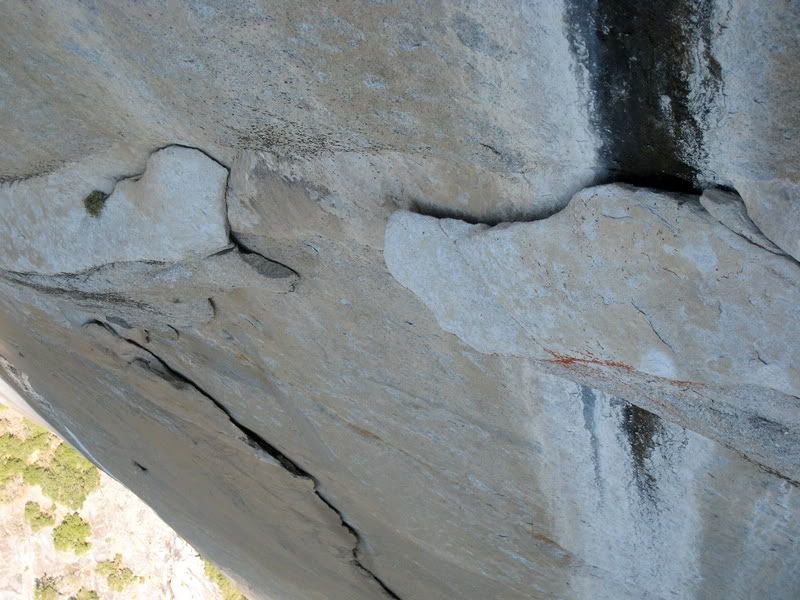 The bolt ladder at the end of pitch 9 was the business of my clean up mission. While every lead bolt is important on an aid climb a steep ladder of bolts with no features to hook can be pretty tough if the bolts break. Here's a shot from my previous ascent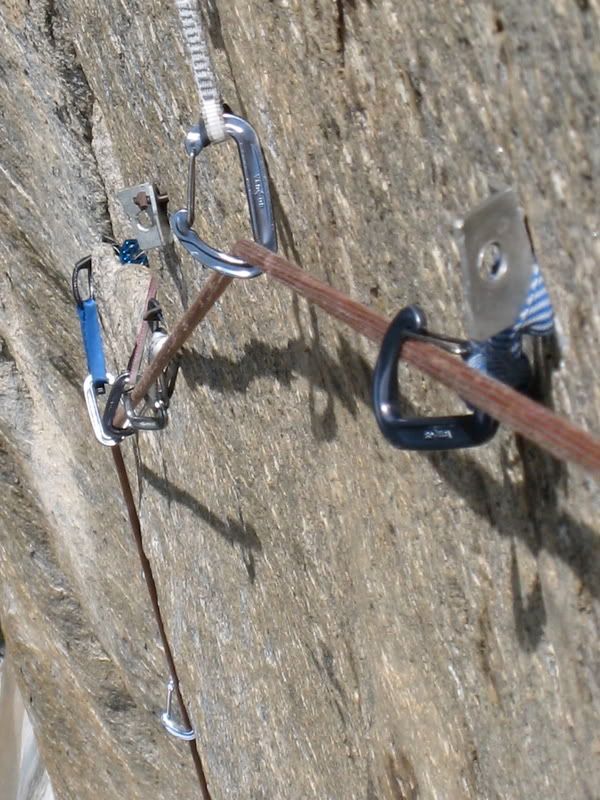 Here's me getting down to business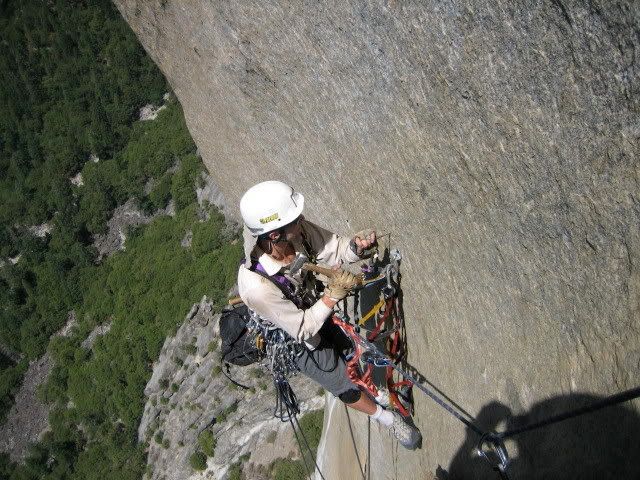 The Sun was beating down and my wrist was getting sore. So I replaced the two worst looking bolts in the ladder and left the other two--one Star Drivin sent deep through a homemade hanger and one hangerless 1/4"er of what appeared to be 80s vintage next to a presumably original broken bolt.
Here's the after shot (both of my bolts are the same length, 3", the farther away one I sawed off but didn't get to the closer one so it sticks out a bit)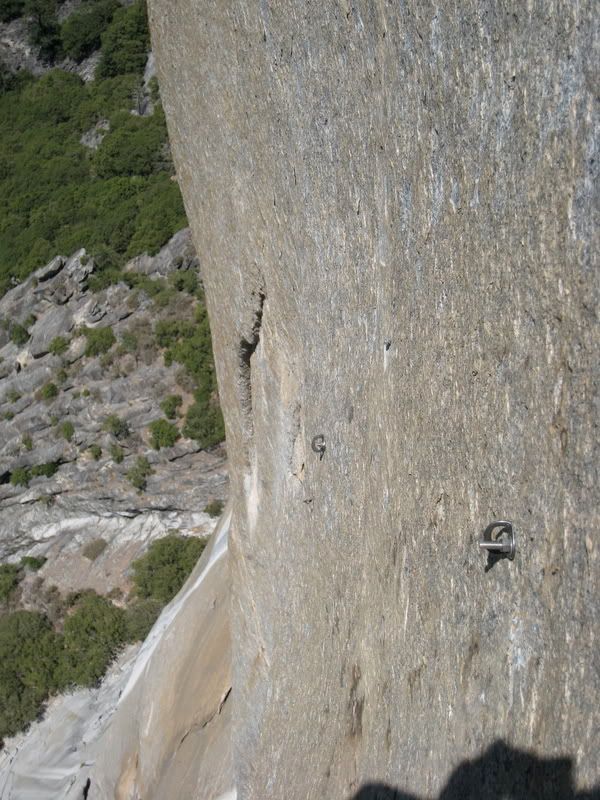 cool view of Mammoth Terrace


We had a lot of pitches to go if we were going to get near the top the following day so I busted up the headwall pitches.
looking down pitch 10


At the top of 10 we replaced one more anchor bolt, but mysteriously my crescent wrench had disappeared. So that one is only hammer tightened(doh!)!
Pitch 11 rocks!


looking back down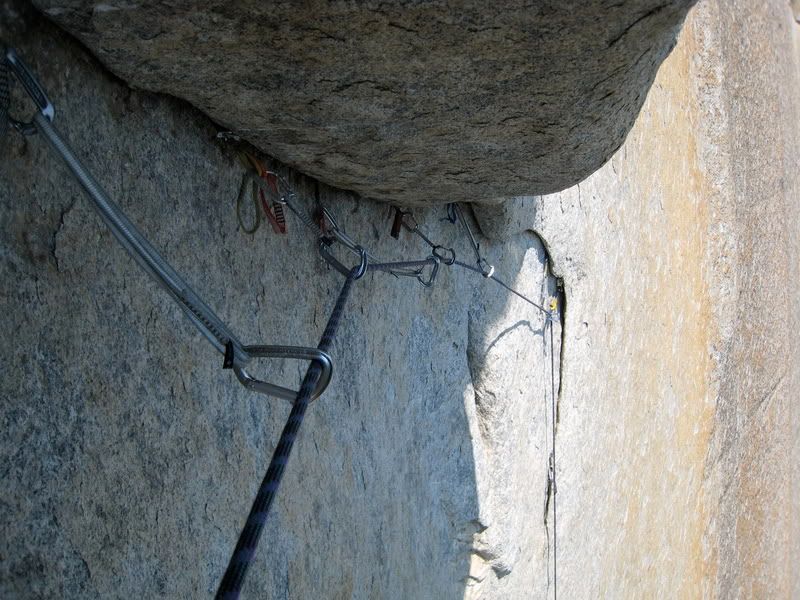 and from the belay (the hanging camalot was used as a quickdraw)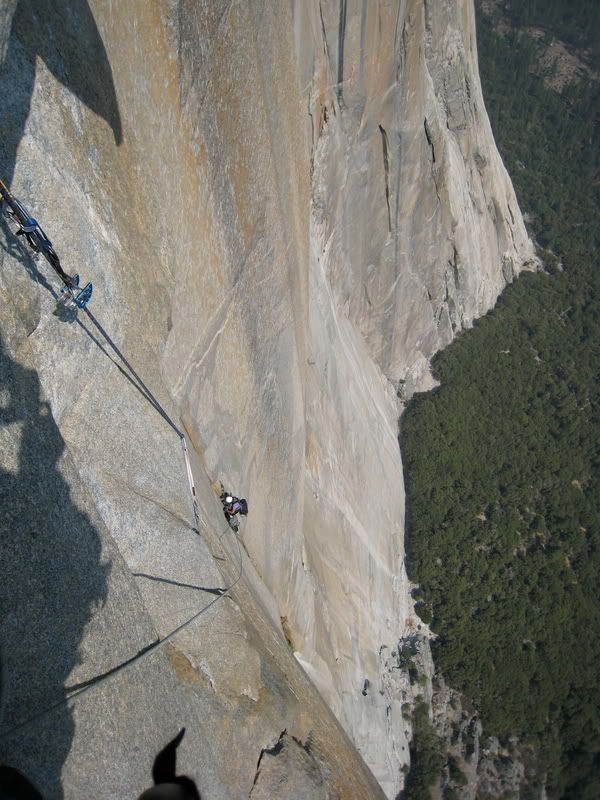 Those headwall pitches, 10 &11 are really the juice of the climb. You feel like you're on a mini Shield headwall with killer exposure and an awesome view all the way to the Nose. Lurking Fear don't have nothing like that.
Pitch 12 went A2 smooth this time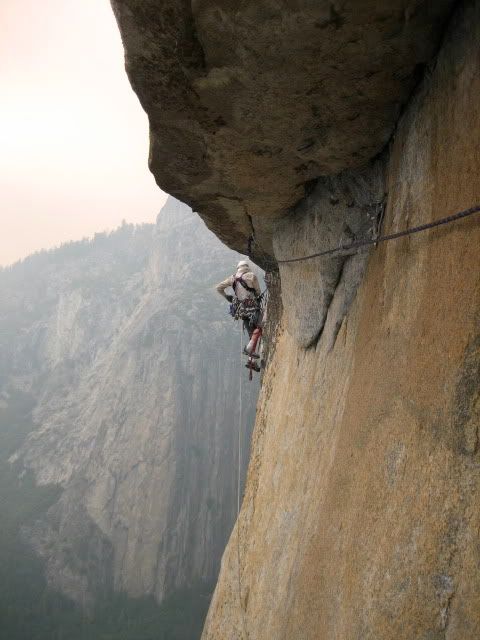 The smoke from the Telegraph fire gave us headaches but brought out the orange in the rock


Viva the munter-mule for lowering out the bag (big wall tip: if you don't know what the munter mule is learn it soon, cause if Jessica had to lift the bag up to unclip it from the anchors we'd still be sitting up there:)


Suddenly we were right above some green/city pirates on Lurking Fear


Aiiiiigh, pirates below and red sky above.....aaaaiiiiggghhh we sail on!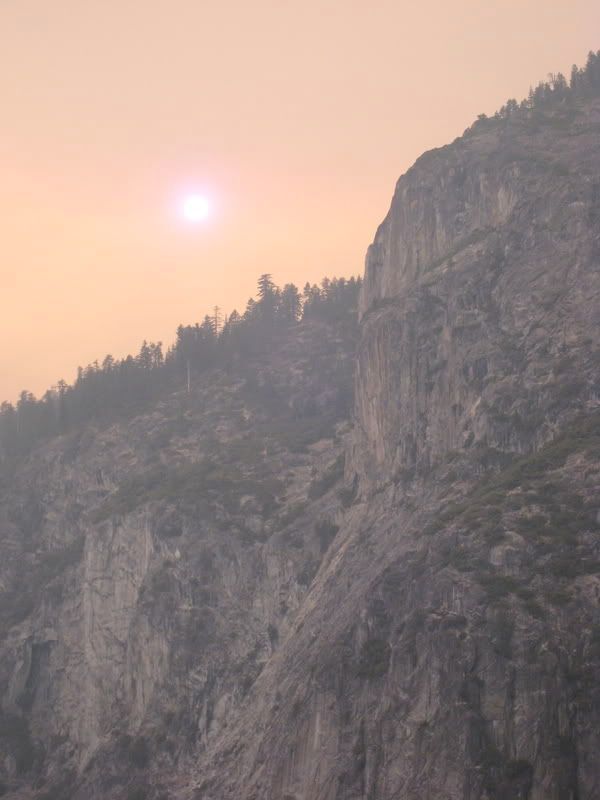 Jessica learned the 'lower out on a bite' technique on this pitch. I insisted we climb one more before bivying as we were still a long way from the top.
Morning came early again but I'm fired up to just have the easier pitches shared with Lurking Fear left
I take off, savoring the shade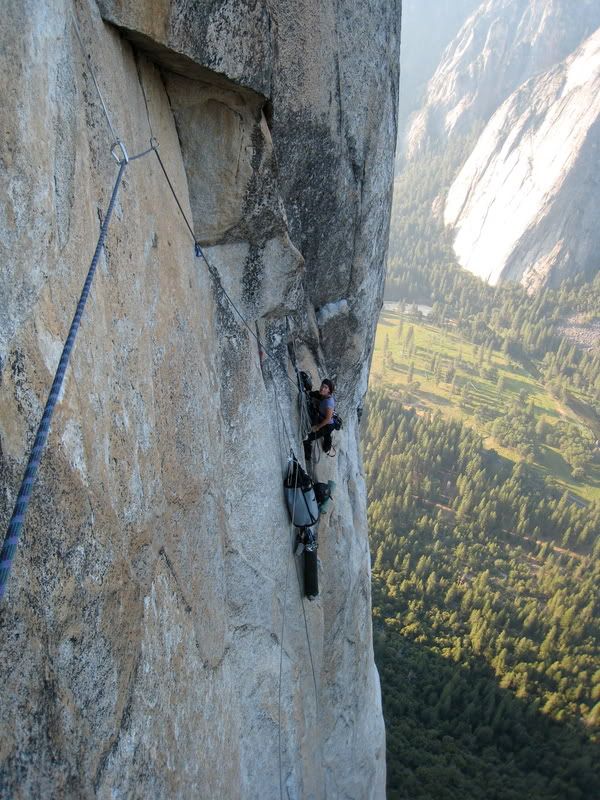 We managed to climb in the shade all day that day!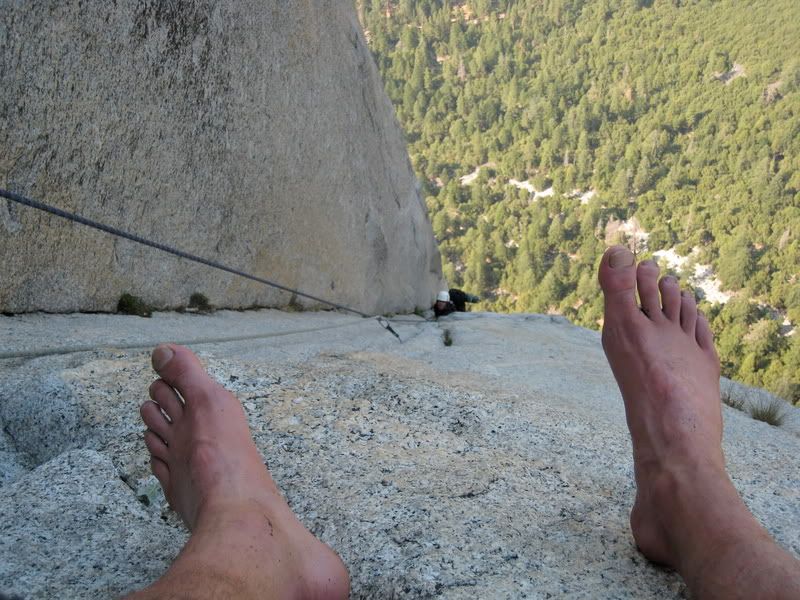 Pitch 16 gave me fits when I tried it with Holly so this picture proves that when properly rested I can climb 5.2


Finally, after three nights in the portaledge we were standing on a nice ledge.
I'm wearing a long sleeve layer and my beanie in late morning in July?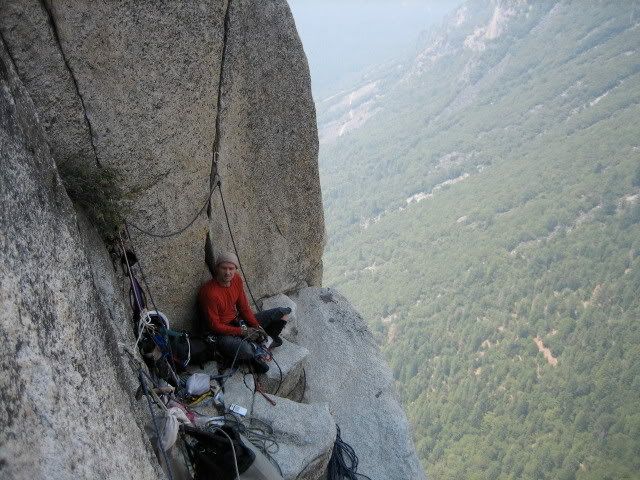 Jessica led the next pitch in her long shirt!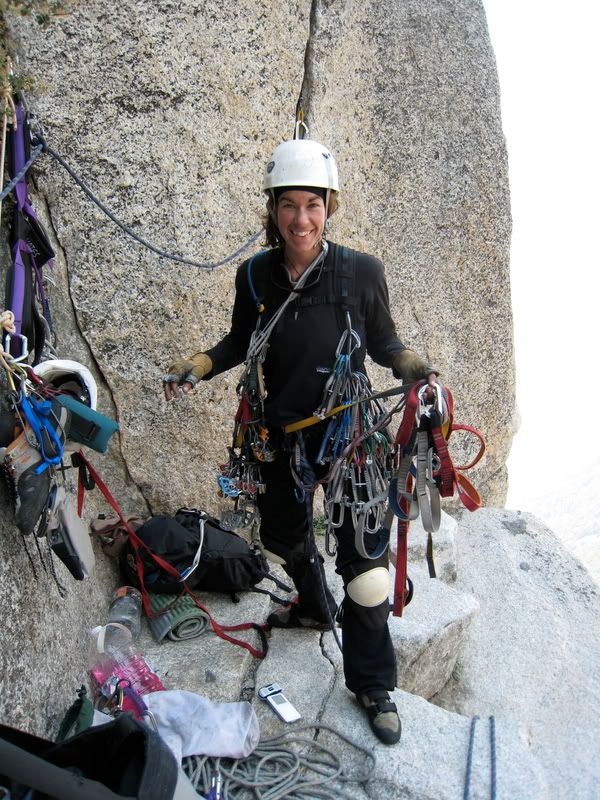 Butterfinger appreciation shot


Jessica found her wall legs and got up a couple pitches in time for us to hit Thanksgiving before dark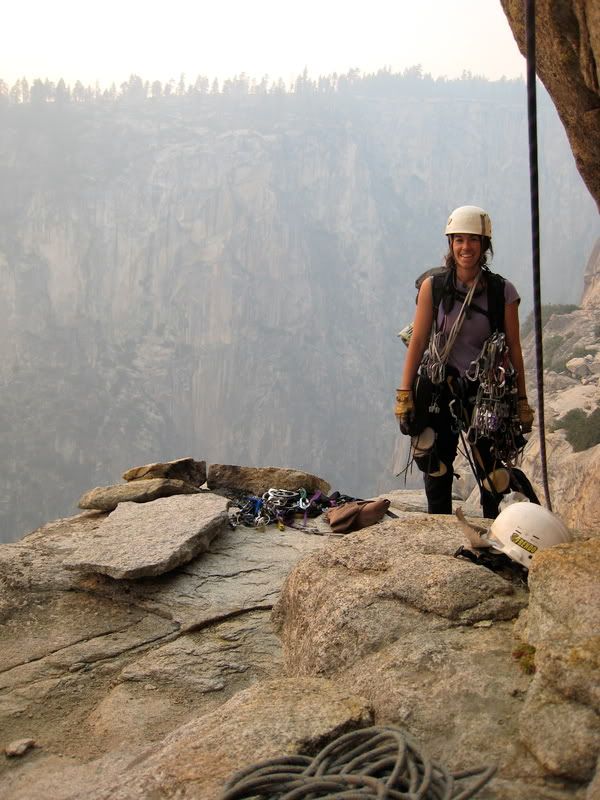 A nice ledge with a cave and a big can of Hawaiian Gold=Happy Pirate!


The smoke was back too.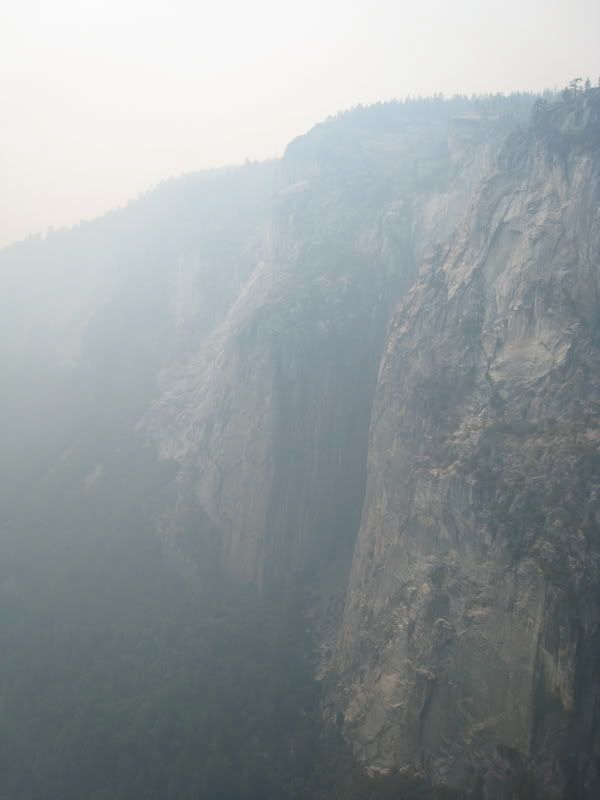 Jessica fixed the last real pitch so I could be assured to make it to work the next evening (I got an extra day off so we spent 4 nights, 3 1/2 days on our final push).


Ryan and John didn't show up until after dark so we all ate late and talked about the glory of Le Cap and the magnificent walls that surround her.
here's some surrounding shots from earlier in the day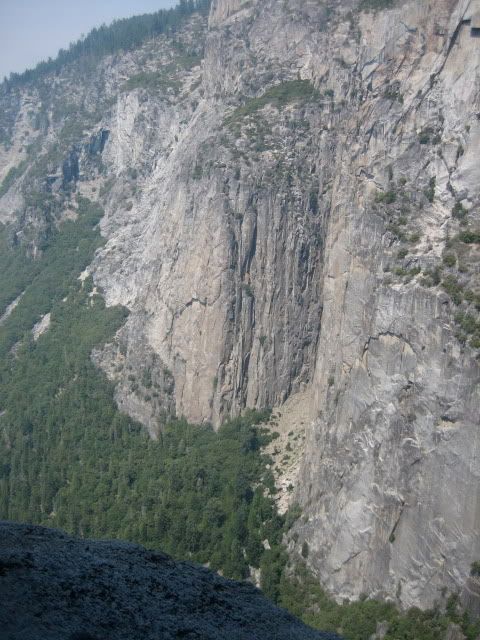 The smoke cleared in the evening so Jessica and I decided to get up early one more time to get through the last pitches and up to the top of the rock before the air quality deteriorated.
Jessica getting ready to go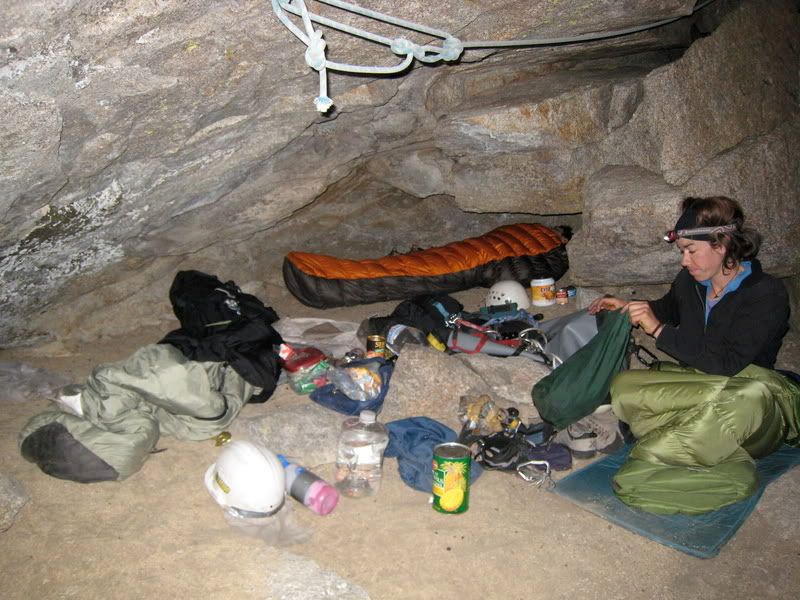 John's got the right idea


I hauled the next to last pitch while Jessica ran up the 5.4 to the summit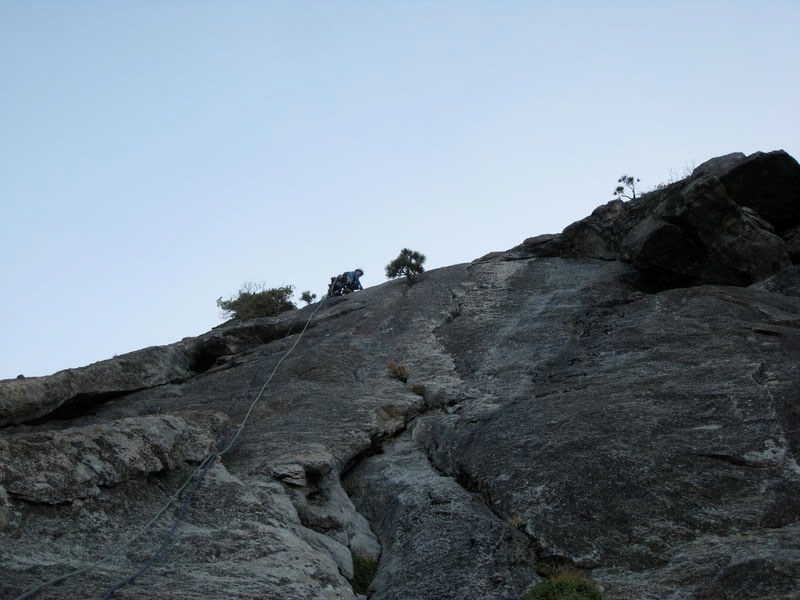 Hauling the last pitch is tough on the hips so I opted to jug with the bag.....
to try this at home just fill your haul bag and head down to the gym and hit the stairmaster---don't forget to clip a portaledge to your butt. Whew!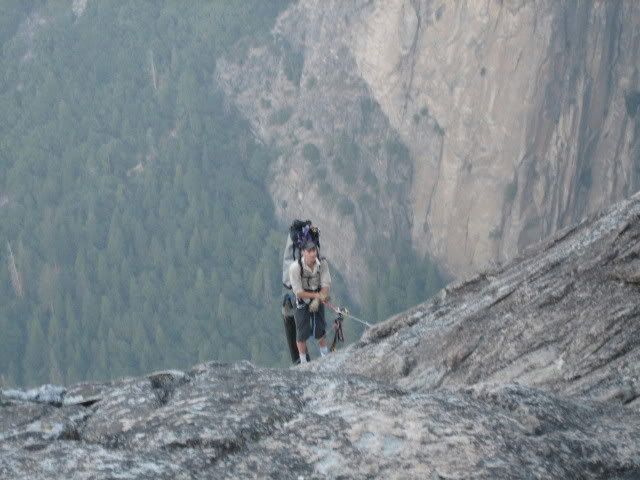 Jessica is psyched!


Here's Jessica hitting the top of the last fixed rope--the true 'you could walk away from here' top of our climb


summit glory with the Telegraph fire raging down canyon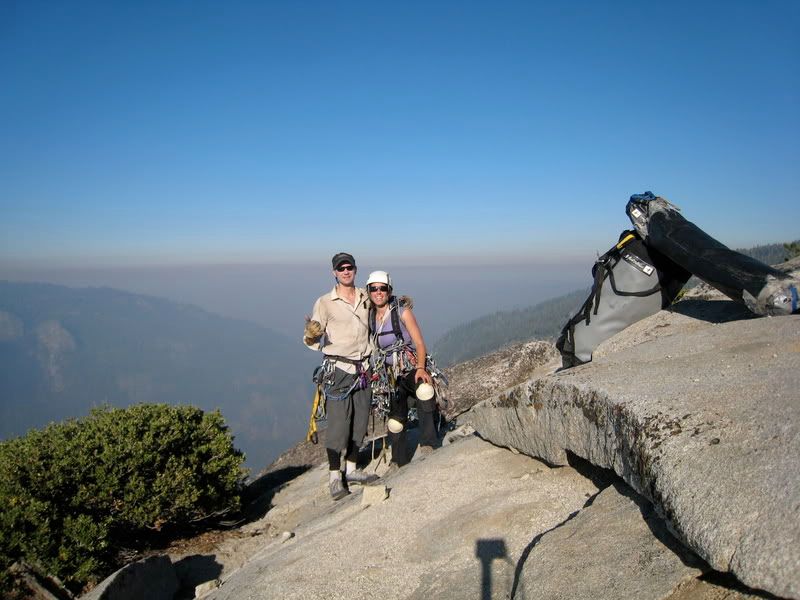 There was some lingering haze in the valley which gave Half Dome and Cloud's Rest a majestic look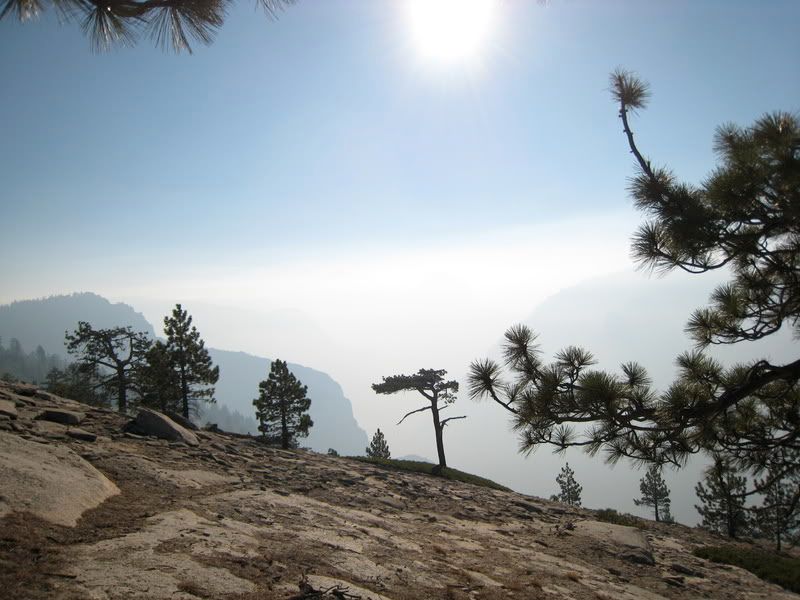 We were making way better time than we had anticipated so we stopped at Zenyatta and took in the view/worked on our tans


The portaledge bag was a convenient place to stash the umbrella and the hiking pole(with tripod top) during our climb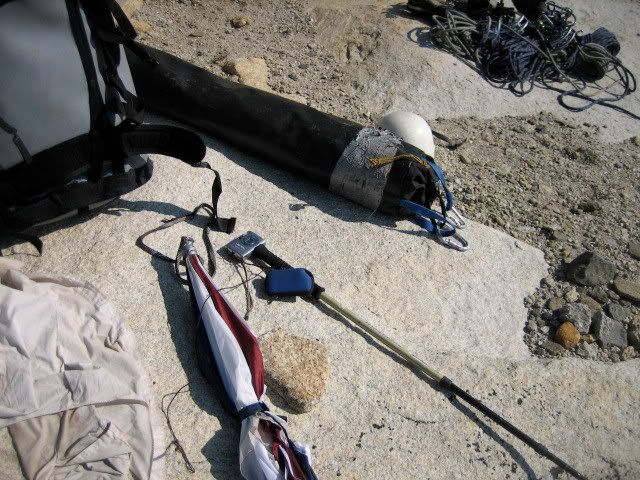 Eventually we staggered back down toward the Merced having done the top out pitches and the walk down in less than 6 hours!


Every big wall climb has some unsung heroes, and since I'm always blowin the Alien horn on these tr's it seems appropriate to send some props to the best big wall shoe around: Montrail CTC
These babies have been up El Cap 3 times, done tons of juggin and fixing and general living in Yosemite rocky terrain mobiling and are still sharp enough to wear to the feed trough. For all the people out there waxing about their 5.10s or La Sportivas that climb like John Bachar but wear out after a trip up the Column, behold the real deal. I'm 175 lbs and these toes have never seen seam grip.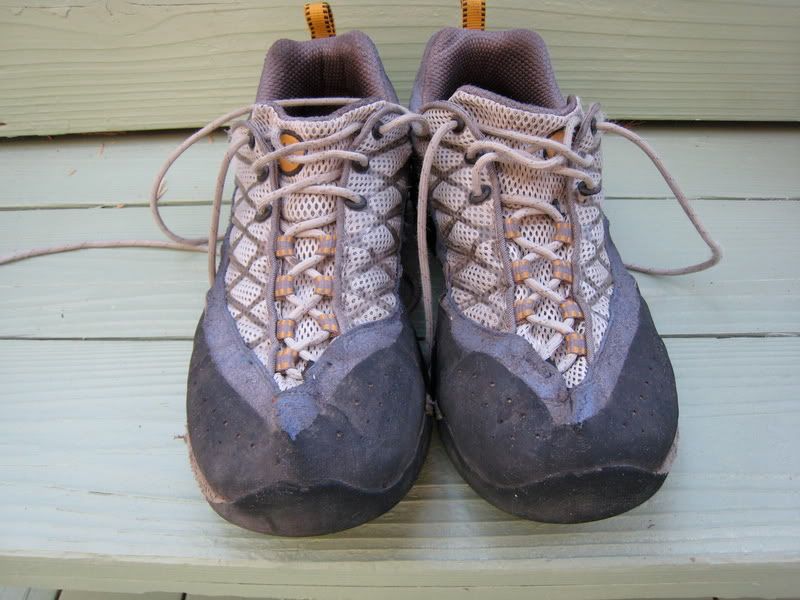 (I don't get these shoes for free or even prodeal. I buy them because they're the first pair of approach shoes that I've ever owned, and I've owned them all--5.10, Nike, La Sportiva, ect., that can stand up to Le Cap).

West Buttress is an awesome natural passage up the big stone. I doubt many of us today can imagine doing a big wall climb up El Cap without cams or nuts as Steve Roper and Layton Kor did in 1963. It was rewarding to fix up such a killer line. Over both ascents I replaced 9 bolts (2 with Holly, 7 with Jessica). Only 4 old bolts remain on the climb.
Here's some of the old classics we scored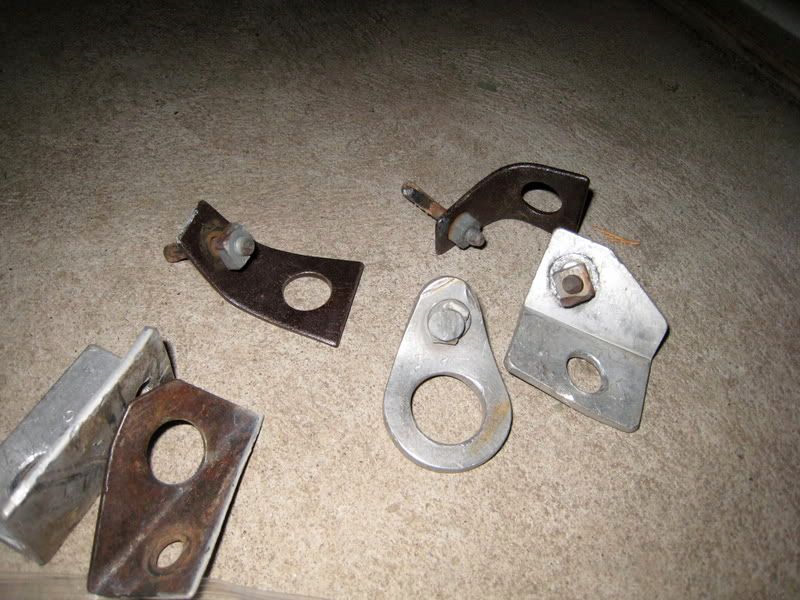 Cheers to you Le Cap and Jessica, much gratitude, much love